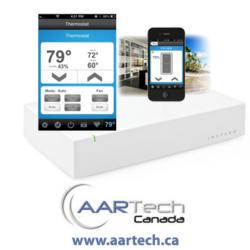 Home Automation simplified, with no activation or monthly fees.
Oshawa, Ontario (PRWEB) January 29, 2013
Home automation is coming to the masses but one of the hurdles is typically the advanced set up and installation requirements. The new Insteon Hub aims to make it easy for almost anyone to create an automation system for home or small business with no activation or monthly fees for the service.
Distributed in Canada by Aartech Canada, the Insteon Hub can control lighting, thermostats, appliances, locks, cameras and more. Users can schedule Insteon devices to turn on and off on schedule or based on sunrise and sunset. The Hub can send email or text message alerts when Insteon devices such as water sensors or motion sensors are triggered or based on any other Insteon device turning on.
Insteon technology communicates using both wireless and powerline networking so it lends itself well to plug-in and retrofit applications as no additional wiring is needed. Insteon devices include wall switches and dimmers, lamp and appliance modules, thermostats, hand held remotes and they are all very reasonably priced.
For more information please contact:
Aartech Canada Inc
http://www.aartech.ca
1-877-760-3105
About Aartech Canada Inc.
Aartech Canada Inc. is a fully Canadian owned and operated distributor of home automation and security products based in Oshawa, Ontario. Aartech Canada has specialized in home automation products for over 10 years and its business continues to be built on a strong commitment to customer service and a desire to offer unique, high quality and exciting products to Canadian customers with local Canadian support.