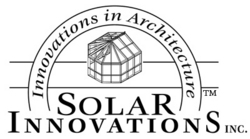 Solar Innovations™ durable greenhouses are constructed from thermally-broken aluminum frames which increase performance and maintain architectural appeal.
Myerstown, PA (PRWEB) July 28, 2008
Solar Innovations, Inc., a custom manufacturer of residential and commercial greenhouses; conservatories; sunrooms; and folding, tilting, and sliding glass doors, walls, windows, and screens, provides planning suggestions for educational and institutional greenhouses.
Project planning is the most important part of any institutional, educational, or research greenhouse application. Customers should know how much space they plan on dedicating to the greenhouse and the intended use of the greenhouse.
After the initial placement questions have been resolved, our greenhouse customers choose what type of environment they would like to create. Environments will vary based on the types of plants being grown in the greenhouse and their specific requirements regarding temperature, moisture, air circulation, and sun exposure, and whether these elements will be manually adjustable and/or automated. Greenhouse temperature can be determined by glazing choice, evaporative coolers, foggers, heaters, ridge and eave vents, and shades. Shades also help limit sunlight exposure to vegetation which requires a shaded growing atmosphere. Sun exposure can also be controlled by the placement of plants and the selection of greenhouse benches. Misting systems, drip systems, humidifiers, and/or foggers are utilized in greenhouses to achieve the desired moisture level.
All of these important greenhouse complements should be considered when requesting the original quote. Knowing the average desired temperature and humidity level, as well as the extremes of both of these environmental factors, allows the estimating and design team to create the most appropriate and complete greenhouse quote possible. Ascertaining required accessories for the greenhouse at the project's inception will prevent possible rework and under-budgeting for the project.
Solar Innovations, Inc. is proud to provide a team planning atmosphere where clients can work directly with their educational, institutional, or research greenhouse estimator, as well as their project manager, to develop the perfect greenhouse environment. Interaction is encouraged between the Solar team and our clients to ensure that all engineering, aesthetic, and environmental conditions are being met. Finally, the Solar Innovations, Inc. manufacturing and project management teams will work with you to ensure each structure has been fabricated and is installed as planned.
Solar Innovations, Inc. prides itself on customer service. Our entire team is available to help you during the planning stages, construction, and after the project has been completed with technical support and service.
Solar Innovations'™ greenhouse enclosures are available in limitless design formations including straight eave, curved eave, double pitch, lean-to, conservatory nose, and hip end structures. The seven standard aluminum frame finishes, as well as Copper and Stainless Steel cladding options are also available for the greenhouse enclosure. "Solar Innovations™ durable greenhouses are constructed from thermally-broken aluminum frames which increase performance and maintain architectural appeal." Greenhouses by Solar Innovations, Inc. have been tested and certified by independent testing agencies, confirming their superior performance in air, water, thermal, and structural aspects.
Contact Solar Innovations™ today at skylight@solarinnovations.com or call 800-618-0669 for information on educational or institutional greenhouse planning and installation.
###