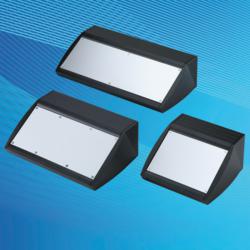 In response to popular demand, UNIDESK is our latest range to be made available in black as standard.
Fareham, Hampshire (PRWEB UK) 24 October 2012
METCASE has extended its UNIDESK range of aluminium instrument enclosures with three new models in black.
This ergonomic sloping front instrument enclosure range has been designed for desktop and wall mounted electronics systems.
Typical applications for UNIDESK include point-of-sale terminals; medical and wellness equipment; machine or robotic controllers and test and measurement instruments.
UNIDESK desktop enclosures are offered in three standard sizes with external dimensions from 200 mm x 200 mm x 102 mm to 400 mm x 200 mm x 102 mm.
The electronic enclosures consist of two diecast aluminium end panels fitted to the front and rear extrusion profiles. The cases are now available painted in black or light grey.
The base panel is removable and includes mounting points for fitting M3 PCB screw pillars. Four non-slip rubber feet are included. An accessory wall mounting kit is also offered. This allows UNIDESK equipment enclosures to be mounted in three orientations to suit different positions on a wall or machine housing.
Anodized aluminium front panels are offered as accessories. They are suitable for mounting membrane keypads, push-button controls and display modules. The cases are provided with both M3 and Torx T10 stainless steel fixing screws.
UNIDESK metal cases can be sealed to IP54 protection class by using the four L-shaped foam gaskets supplied for the front and base panel apertures.
METCASE can also supply the UNIDESK range as custom electronics enclosures to suit individual requirements. The cases can be manufactured in different widths and painted in other colours. Prices start at £104.
METCASE is the metal enclosures division of OKW Enclosures Ltd. METCASE Sales & Marketing Director Robert Cox said: "In response to popular demand, UNIDESK is our latest range to be made available in black as standard."
Features of METCASE instrument enclosures include:

Robust ergonomic aluminium instrument enclosures available in three sizes
IP54 protection class (VDE tested)
Pre-assembled aluminium case body
Flat rear wall for connectors, switches, power inlets and cable glands
Self-adhesive gaskets for front panel and base
M3 inserts for fixing base and front panels
Optional stainless steel M3 Torx T10 fixings and MS M3 Pozidriv fixings included
Four non-slip feet
Recessed front panel for a membrane keypad
Pre-punched PCB fixing points in base
Order direct or from distributors
Material – aluminium
Protection Class – IP54 (PCB fixing holes in base must be covered)
Standard Colours – Light Grey (RAL 7035), Black (RAL 9005). Powder epoxy polyester paint
Contents – enclosure, gaskets (IP54), base panel, non-slip foot (x4), M3 x 12 mm Torx T10 (x20), M3 x 12 mm (x20), front panel
Accessories – front panel kit, wall mounting kit, PCB pillars and screw.
METCASE also manufactures four ranges of high quality rack mount cases:

VERSAMET – 1U 19" rack mount enclosures featuring comfort handles for easy removal and reinstallation
UNIMET – stylish 2U and 3U rack cases in two standard depths. Features include comfort handles, rack mounting ears, removable rear panel and recessed front panel for membrane keypads
METTEC – tough 1U, 2U and 3U aluminium rack cases available in three standard depths. Diecast front bezel features comfort handles and rack mounting ears. Removable front panel
INSTRUMET – stylish 3U instrument cases with ABS side handles. Portable models feature a carrying handle.
For more information about METCASE instrument enclosures and rack cases, visit the METCASE website or contact Sales & Marketing Director Robert Cox, +44 (0)1489 583858.
-Ends-
Notes for Editors
METCASE Enclosures UK
15 Brunel Way
Segensworth East
Fareham, Hampshire
PO15 5TX
United Kingdom
Tel: +44 (0)1489 583858
Fax: +44 (0)1489 583836
METCASE specialises in the design and manufacture of high quality aluminium enclosures for the electronics industry. The METCASE range has been designed to allow for modifications to be carried out with ease.
Special sizes and versions of the enclosures can be produced in batch quantities from as little as 10 units. This flexibility provides design engineers with an exceptional range of options for developing new products and variations.