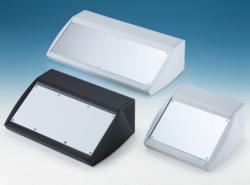 When we saw an opportunity to make a tried and tested design like UNIDESK even better, we couldn't resist.
Bridgeville, PA (PRWEB) June 20, 2013
METCASE has updated its UNIDESK instrument enclosures with a new rear panel design to make it easier to fit connections and switches.
The modifications mean this popular extruded aluminum enclosure range now offers more internal and external space on the rear panel for connectors, controls, power inlets and switches.
Designers have removed an assembly rail from the rear panel extrusion profile in the area used most by customers for connections, switches and a power inlet.
So now more components can be fitted inside the enclosure and on the rear panel wall, without the need for additional milling of the assembly rail.
But despite the removal of the rail, UNIDESK electronic cases remain as tough and dependable as ever – and now they are even more versatile.
METCASE is the metal enclosures division of OKW Enclosures, Inc. Vice President, Sales, Sean Bailey said: "You don't have to know us for very long to realize that we're passionate about enclosures and real perfectionists when it comes to design.
"So when we saw an opportunity to make a tried and tested design like UNIDESK even better, we couldn't resist. Removing that one rail creates extra space and makes it easier to fit controls," he added.
The new design is the latest enhancement for UNIDESK. Last year the range was increased with the addition of black as a standard color for three new models.
UNIDESK sloping front terminal cases can be used as desktop housings or they can be mounted on walls.
They are perfect for applications such as point of sale equipment; medical electronics; control consoles for industrial robots and other machinery; test, measurement and calibration.
The enclosures are available in three standard sizes – M200 (7.87" x 7.87" x 4.02"); M300 (11.81" x 7.87" x 4.02") and M400 (15.75" x 7.87" x 4.02") – and two standard colors, Light Gray (RAL 7035) and Black (RAL 9005).
The design is simple but highly effective. Each enclosure comprises two aluminum end sections fitted to the front and rear extrusion profiles. Top and base panels can then be added.
The removable base panel includes mounting points for fitting M3 PCB screw pillars. Each enclosure also comes with four non-slip rubber feet.
Accessories include the front panel and wall mounting kit. This kit – comprising two metal brackets – enables UNIDESK to be mounted in three different ways on a wall, panel or bulkhead.
The anodized aluminum front panels can be used to mount membrane keypads, displays and push-button controls. All UNIDESK enclosures ship with both M3 and Torx T10 stainless steel fixing screws.
UNIDESK is rated to IP54, as long as the front and base panel apertures are sealed with the four L-shaped foam gaskets supplied with each enclosure.
UNIDESK is available as a custom aluminum enclosure. Its extrusion-based design means it's easy to manufacture the housings in different widths. They can also be supplied in a wide range of colors and finishes. Prices start at $135.
Features of METCASE UNIDESK instrument housings include:

Tough and reliable aluminum instrument enclosures available in three sizes (custom widths readily available)
IP54 protection class with self-adhesive L-shaped foam gaskets for the front panel and base. (PCB fixing holes in base must also be covered)
Shipped as pre-assembled enclosures
Flat rear wall, enabling the installation of switches, connectors, power inlets and cable glands
M3 inserts for fixing base and front panels
Stainless steel M3 Torx T10 fixings and MS M3 Pozidriv fixings included
Four non-slip rubber feet
Recessed front panel for a membrane keypad
Pre-punched PCB fixing points in base
Material – aluminum
Standard colors – Light Gray (RAL 7035), Black (RAL 9005). Powder epoxy polyester paint
Contents – enclosure, gaskets (IP54), base panel, non-slip foot (x4), M3 x 12 mm Torx T10 (x20), M3 x 12 mm (x20), front panel
Accessories – front panel kit, wall mounting kit, PCB pillars and screw.
For more information about METCASE enclosures, please view the website or contact Sean Bailey, Tel: 800-965-9872.
-Ends-
Notes For Editors
METCASE specializes in the design and manufacture of high quality aluminum enclosures for the electronics industry. The METCASE range has been designed to allow for modifications to be carried out with ease.
Special sizes and versions of the enclosures can be produced in batch quantities from as little as 10 units. This flexibility provides design engineers with an exceptional range of options for developing new products and variations.
METCASE is a division of the OKW Group.
OKW Enclosures, Inc
3000 Old Pond Road
Bridgeville, PA 15017
Phone: 412 220 9244
Fax: 412 220 9247