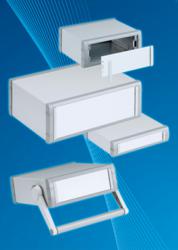 With four horizontal guide positions for slide-in PCBs, instead of simple mounting holes, UNIMET-PLUS enables designers to make much better use of the internal space available in each housing.
Bridgeville, PA (PRWEB) September 28, 2011
METCASE has developed an all new range of instrument enclosures – UNIMET-PLUS – for the very latest in desktop and portable OEM electronics equipment.
UNIMET-PLUS aluminum enclosures are similar in size to METCASE'S popular UNIMET series but with a completely new internal design and assembly technique.
Due to customer demand, the UNIMET-PLUS series has an internal chassis which incorporates four horizontal guide positions for slide-in PCBs – rather than simple mounting holes in the base panel for the PCB.
Whereas the UNIMET series was designed for single board electronics equipment, the new UNIMET-PLUS equipment enclosures are designed for multiple PCBs.
These are fitted to the internal chassis plates using four snap-in polyamide guides supplied. Additional guide positions and guides can be specified on demand.
The UNIMET-PLUS range is available in six standard sizes with external dimensions from 1.97" x 9.06" x 7.60" to 5.91" x 13.78" x 10.35".
Typical applications for these modern and versatile electronic enclosures will include:

test and measurement equipment
medical and wellness technology
industrial control interfaces
peripherals
communications and laboratory equipment.
UNIMET-PLUS has an all-aluminum construction consisting of a base panel assembly with two chassis plates and snap-in guides, top cover, front and rear diecast bezels and a removable rear panel.
The bezels are powder painted in window gray (RAL 7040) while the case body is in light gray (RAL 7035).
UNIMET-PLUS has no visible fixings on the case body. The base and chassis assembly is fitted to the bezels and the top cover is captured by the assembly.
The front panels, which are available as accessories, are recessed in the bezels to protect the controls. All the fixings are hidden under two ABS trims.
The removable rear panel is also recessed and is ideal for mounting power inlets, connectors and on/off switches. Four self-adhesive non-slip feet are also included in the kit. Molded ABS tilt feet are also offered as accessories.
For portable applications, all UNIMET-PLUS enclosures can be ordered with a robust and attractive tilt/swivel bail arm. This can also be indexed at 30-degree intervals for convenient canting when the housings are used as desktop enclosures. Prices start at $81.
METCASE also offers a full custom enclosures service for UNIMET-PLUS with bespoke sizes, CNC punching, milling and drilling, silk-screen printing and much more, providing fully finished enclosures ready for fitting the electronic components.
METCASE is the metal enclosures division of OKW Enclosures, Inc. METCASE Vice President, Sales, Sean Bailey said: "UNIMET-PLUS represents a significant step forward for instrument enclosures.
"With four horizontal guide positions for slide-in PCBs, instead of simple mounting holes, UNIMET-PLUS enables designers to make much better use of the internal space available in each housing."
Features of UNIMET-PLUS advanced aluminum instrument enclosures include:

robust and versatile design in six sizes
order with or without a tilt/swivel bail arm
internal chassis with horizontal guide positions for slide-in PCBs
four snap-in polyamide PCB guides
stylish diecast front and rear bezels
removable rear panel recessed for protection of connectors, switches
recessed aluminum front panel (accessory)
four non-slip rubber feet included (molded tilt feet available as an accessory)
protection class – IP40 (Not rated)
standard colors – front/rear bezel, window gray (RAL 7040); Case body, light gray (RAL 7035) powder epoxy polyester paint.
METCASE products also include an extensive range of 19" rack cases in 1U, 2U and 3U sizes.
For more information on UNIMET-PLUS instrument enclosures, please view the METCASE website or contact Sean Bailey, Tel: 800-965-9872.
Notes For Editors
METCASE specializes in the design and manufacture of high quality aluminum enclosures for the electronics industry. The METCASE range has been designed to allow for modifications to be carried out with ease.
Special sizes and versions of the enclosures can be produced in batch quantities from as little as 10 units. This flexibility provides design engineers with an exceptional range of options for developing new products and variations.
METCASE is also the USA representative for the market-leading RETEX range of flat-pack 19" racks, 19" wall cabinets and SERIES 50 extruded aluminum enclosures.
METCASE is a division of the OKW Group.
OKW Enclosures, Inc
3000 Old Pond Road
Bridgeville, PA 15017
Phone: 412 220 9244
Fax: 412 220 9247
###