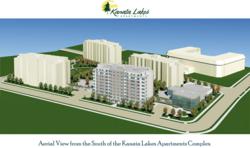 We are delighted to be working with such a forward thinking company as Groupe Lépine
Ottawa, ON (PRWEB) May 17, 2011
Announcing Groupe Lépine's insulation contractor of choice for their luxurious Kanata Lakes Apartment complex. KinLar Insulation is proud to provide insulation services to Groupe Lépine for this prestigious construction project, with the application of high efficiency spray foam insulation beginning this week.
There is a strong synergy between the approaches of both companies and their concerns for the environment. Groupe Lépine strives to design and build properties that promote a greener way of life. KinLar Insulation is expert in the application of Polarfoam PF-7300-0 SOYA an insulation material made from recycled plastic and SOYA, but also with the highest insulation R value available. Residents of the Kanata Lakes Apartments will benefit from the application of a full 4 ½ inches of spray foam insulation providing both an air and vapour barrier preventing heat loss in the winter and cooling loss in the summer, exceeding the Ontario building code by 160%, and dramatically reducing energy costs. Unlike conventional fibreglass insulation, spray foam insulation does not degrade over time and provides a complete seal, so the environmental benefits will be felt for the entire lifetime of the building.
Groupe Lépine chose KinLar Insulation because they are CUFCA certified (Canadian Urethane Foam Insulation) contractors with the necessary skills and resources to complete a construction project of this scale and complexity. Tod King of KinLar Insulation commented, "We are delighted to be working with such a forward thinking company as Groupe Lépine".
In addition to green construction techniques the Kanata Lakes Apartments also feature:

Parking stalls for charging electric vehicles
CFL lighting
EnergyStar rated appliances
Smart electricity meters
Low E gas sealed glass and Window blinds provided on all windows to ensure maximum energy efficiency winter and summer
High efficiency natural gas boiler located in the lower garage levels allowing excess heat to be dispersed in the underground garage area
Landscaping irrigation system throughout supplied from a ground source well
Landscaped green roofs covering two thirds of building areas
Car sharing program
With occupancy starting in Fall 2011 residents of Kanata Lakes Apartments will no doubt benefit from the environmentally conscious approach of Group Lépine and KinLar Insulation for decades to come.
About Groupe Lépine
Over the past 60 years, Groupe Lépine has earned a sterling reputation as a national leader in multi-family residential development. The company, among the top Canadian residential real estate development companies, is a family-run business focused on quality of service. From concept and design to marketing and property management, Groupe Lépine is involved in every aspect of each project. With the construction of Kanata Lakes Apartments, a new level of sophistication, design excellence, elegance and energy efficiency is achieved. Residents will enjoy all the advantages of a luxury condo without the responsibilities and complications inherent in condo ownership.
About KinLar Insulation
Founded by Tod King and Jean-Francois Larente in 2008, KinLar Insulation is a full service insulation contractor, specializing in spray foam insulation and serving Eastern Ontario. KinLar is CUFCA certified (Canadian Urethane Foam Insulation) as well as being a member in good standing of the BBB, GOHBA (Greater Ottawa Home Builders Association), Renomark, and Canada Green Building council.
###