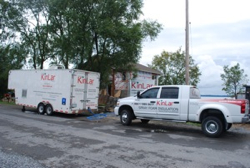 Ottawa, ON (PRWEB) March 08, 2012
With spring rapidly approaching the Ottawa construction industry is gearing up for an early start and a strong year. To better support their commercial clients, KinLar Insulation has added more capacity and is pleased to announce the appointment of Wayne Baker to the position of Commercial Accounts Manager.
Wayne brings 12 plus years experience in the specialty field of spray foam insulation to KinLar Insulation. Starting his career as a certified and licensed installer, he subsequently moved inside the office where he was able to bridge the gap between sales and installations. Wayne has participated and run in numerous lunch and learn seminars to help educate the public, builders and building officials to the benefits, limitations and applications of spray foam insulation. He is uniquely qualified to ensure clients get the best solution for their commercial insulation needs, a hot topic in these days of rapid energy cost inflation.
CUFCA certified KinLar Insulation has also added more capacity in the form of a third spray foam insulation trailer. Equipped to the same exacting standards as their other two rigs and offering both 1/2lb or 2 lb spray foam insulation KinLar have the resources and expertise to support even the largest commercial projects.
Typical commercial applications for spray foam insulation include:

Industrial Buildings
Retail Buildings
Apartments / condos / multi family units
Agricultural buildings
Residential homes
With tenants demanding more energy efficient buildings and new standards such as NRCAN's new Energuide rating system (ERS), architects and builders are increasingly turning to spray foam insulation, not simply because of the higher R value, but also because of the superior "real world" insulation solution. Spray Foam insulation is both an air and a vapour barrier, creating a better seal than traditional insulation materials and reducing energy costs for the lifetime of the property . For more details on this topic see KinLar insulation's article in the March edition of Construction Canada. http://www.kenilworth.com/publications/cc/de/201203/files/28.html
About KinLar Insulation
Founded by Tod King and Jean-Francois Larente in 2008, KinLar Insulation is a full service insulation contractor, specializing in spray foam insulation but also offering insulation removal, fireproofing and drywall, serving Eastern Ontario. KinLar is CUFCA certified (Canadian Urethane Foam Insulation) as well as being a member in good standing of the BBB, GOHBA (Greater Ottawa Home Builders Association), Renomark, and Canada Green Building council.