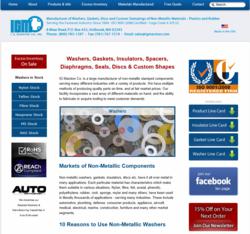 (PRWEB) October 18, 2011
I. G. Marston Company recently released major updates to their website and for a limited time is offering a 15% discount off your first order when you sign up for the company's E-newsletter.
The extensive updates include new detailed product information on Custom Insulators & End Laminations, Custom Washers, Custom Gaskets & Seals. The new site also has downloadable Product line cards, Insulator line cards, Gasket line Cards and Washer line cards and a state of the art "Rapid Quote" system. The new features allow visitors to the I. G. Marston website to ask questions and get an immediate response. Visitors often want to know detailed information about the materials that I. G. Marston can fabricate or die cut. Our goal is to let customers know our more about our extensive product line, discount pricing and limitless custom product capabilities.
I.G. Marston Company is a leading provider of die cutting services will be highlighting their digital dieless cutting capabilities and demonstrating how this technology can produce tight tolerance parts with exceptional edge quality, and without expensive tooling costs at the National Fastener & Mill Supply Show in Las Vegas on Oct 19th & 21st.
I. G. Marston Co. is the leading manufacturer of non-metallic Plastic & Rubber stamped components including custom made washers, gaskets, seals, spacers, disks, Insulators & tags. I G Marston has been a trusted custom solution provider serving the following industries since 1844, Automotive, Aerospace, Medical & Scientific, Industrial, Electronics, Construction, Food and Beverage, Defense, Plumbing, Furniture, Transportation, Water Filtration and more.
###