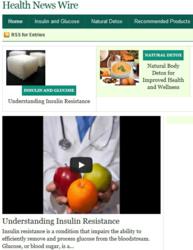 (PRWEB) June 19, 2013
The website HealthNewsWires.com has recently published an informative article and video describing insulin resistance, its harmful effects and tips to manage and prevent the condition.
In a new article and video from HealthNewsWires.com, the author defines insulin resistance as a condition that impairs the ability to efficiently remove and process glucose from the bloodstream. Glucose, or blood sugar, is an energy source required by all cells, organs and systems of the body for normal function. The inability to utilize glucose in the blood results in excess levels in the blood, effects metabolism, and increase the chances of developing type 2 diabetes.
The author describes insulin resistance as a condition that affects nearly 35% of the population, and occurs when a needed substance is present in the body, but unable to be utilized by the cells of the body. Specifically, the muscles and cells of the body do not respond to insulin, resulting in decreased amounts of glucose being delivered to the cells. As long as the pancreas can produce enough insulin, meeting the demand for increased amounts of glucose, the body appears to functions normally and glucose levels remain at healthy levels.
Health problems occur when the demand for glucose exceeds the pancreas' ability to produce insulin, causing blood glucose levels to increase.
While researchers have yet to determine an exact cause of insulin resistance, they believe it is closely related to being overweight, having excess fat around the waist and physical inactivity. Genetics and heredity also appear to influence who develops insulin resistance.
The video describes the most effective methods of treatment and prevention for this condition , these includes regular exercise, weight loss, eating a healthy diet, and using certain herbs and supplements like Cinnamomum Burmannii, Berberine, Pterocarpus Marsupium, 4-hydroxyisoleucine, R-Alpha-Lipoic-Acid.
The full article on the effects of insulin resistance on health is available at http://healthnewswires.com/insulin-resistance/
About: HealthNewsWires.com is a new website that was launched in June of 2013 in order to educate the community in the importance of health and wellness. Upcoming topics to be covered include weight loss, benefits of antioxidants, skin health, joint health, metabolism, digestive health, probiotics, gluten intolerance, cleansing diets, heart health, as well as several other highly informative articles to help people understand the connection between health and a high-quality of life. Most recently they released a video on a natural total body detox cleanse and the benefits derived from it.