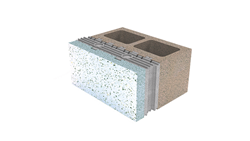 We invest millions annually on research and development for our Echelon brand, resulting in innovations like InsulTech. We are thrilled to be named as a finalist in the Architizer A+Awards.--Ken O'Neill, Oldcastle Architectural
Atlanta, GA (PRWEB) March 21, 2016
Oldcastle Architectural today announced that its InsulTech™ Concrete Masonry System (ICMS), part of the Echelon brand, is one of five elite finalists in the Architizer A+Awards, in the Materials: Stone, Concrete & Masonry category. As the world's largest architectural website, Architizer features the Architizer A+ Popular Choice Award with voting open until April 1, 2016. Go to the Architizer Awards page and vote for InsulTech to help launch a revolution in the future of masonry.
"At Oldcastle Architectural, we're very honored to have our InsulTech concrete masonry system recognized by Architizer's world-class awards program," said Ken O'Neill, Executive Vice President, Sales, Marketing and Product Development. "We invest millions annually on research and development for our Echelon Masonry brand, resulting in innovations like InsulTech. We are thrilled to be named as a finalist among so many worthy architectural leaders."
After only 18 months on the market, InsulTech has earned universal praise from the building community. InsulTech features high thermal efficiency, continuous insulation, moisture management, wind- and fire-resistance, as well as interior and exterior aesthetics in one integrated structural masonry unit. Representing the future of high-performance walls, InsulTech combines a structural concrete masonry unit, a molded insulation insert and on the exterior and a beautiful, stone thin veneer finish in several options from Oldcastle's Echelon Trenwyth line.
In addition to the Popular Choice Award, Architizer has assembled a panel of more than 350 esteemed jurors for the A+ Jury Award . All Architizer A+Award winners will be announced on April 12th and celebrated at a NYC red carpet Gala on May 12, 2016.
With entries from 100 countries, the Architizer A+Awards represent the best of architecture and design. Now in its fourth year, it is the largest awards program that celebrates the year's best architecture and products, while nurturing the appreciation of meaningful architecture worldwide. Visit the awards page today and vote for InsulTech at the http://awards.architizer.com/public/voting/?cid=88
About Echelon Masonry
Echelon is the consolidated brand for all masonry products and services of Oldcastle Architectural including Trenwyth® Architectural Masonry, Artisan Masonry Stone Veneers®, Quik-Brik® Concrete Masonry Units, Amerimix® Bagged Goods and a complete portfolio of Performance Upgrades. As a single source masonry portfolio solution, Echelon delivers consistent, reliable product manufactured locally at more than 170 locations and delivered by an unrivaled logistics network.