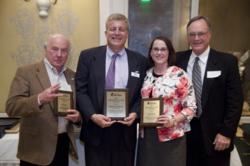 Companies need to take a better look at how they conduct business in regards to their healthcare costs.
Pacifica, CA (Vocus/PRWEB) March 10, 2011
Many know the hassle of having their group health insurance coverage through their employer change annually. Often times, the new insurance carriers do not cover the same doctors and their benefits are rarely identical. At the Trowbridge Insurance Agency, there is a better way.
Trowbridge Insurance provides services to Pacifica and San Mateo County, with personal and commercial coverage available using very competitive carriers, and strategies that maximize your savings. Trowbridge Insurance also offers important discounts on clients with multiple policies.
One thing that the company specializes in is trying to find ways for small to medium-sized businesses to save money. It is using a proven strategy, developed from the actuarial experience gleaned from 14 years and thousands of clients, to show how "it's not who you pay, but rather how you pay," that delivers impressive savings!
"Companies need to take a better look at how they conduct business in regards to their healthcare costs," said Corrin Trowbridge of the Trowbridge Insurance Agency. We use a third-party administrator, who is showing businesses how to save money and use their group policy better. More than 50 to 70 percent of the employees will not meet their deductible, so by changing the way the policy is structured the business can save a ton of money without reducing benefits. This puts money back into the companies operating budget and improves their profit margin, without affecting the benefits the employees enjoy."
With health insurance on everyone's minds and on everyone's television these days, it is comforting to know that your insurance agent is trying to find ways to painlessly reduce the costs for its clients, rather than just accepting another payday.
"Most insurance companies are not interested in telling their clients these things," said Trowbridge. "But we are."
For more information about lowering insurance costs or any of Trowbridge Insurance's other services, call them at (650) 557-4869 or view them on the web at http://www.trowbridgeinspacfica.com.
About Trowbridge Insurance
Since 2002, Trowbridge Insurance, a skilled group of insurance agents in San Francisco's Peninsula area, has provided residents of San Mateo County and Pacifica insurance services including Homeowners, Life, and Auto Insurance. Their extensive experience gives them insight into the insurance industry that is unrivaled by competitors. Trowbridge Insurance can save customers money on all of their insurance needs without sacrificing benefits.
Trowbridge Insurance serves the San Francisco Bay Area, including the communities of Atherton, Belmont, Berkeley, Brisbane, Burlingame, Campbell, Colma, Corte Madera, Cupertino, Daly City, El Grenada, Foster City, Fremont, Gilroy, Hillsborough, Kensington, La Honda, Los Altos, Los Altos Hills, Los Gatos, Marin, Menlo Park, Millbrae, Mill Valley, Montara, Monte Sereno, Mountain View, Oakland, Pacifica, Palo Alto, Pescadero, Piedmont, Portola Valley, Redwood City, San Bruno, San Carlos, San Gregorio, San Mateo, San Francisco, San Jose, San Rafael, Santa Clara, Saratoga, Sausalito, Sunnyvale, Tiburon, and Woodside.
###