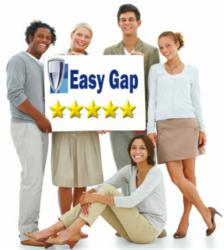 Easy Gap products now feature a 'fast track' claims process
Wirral, UK (PRWEB UK) 19 December 2012
Leading Insurance provider Aequitas Automotive has announced the extension of one of its most popular product features to a new series of Gap Insurance products. The new products available under the well established Easy Gap brand will now include a 'fast track' claims process, aimed at providing consumers with a written commitment to a 14 day settlement.
The feature is not new to Aequitas Automotive however, as the current GapInsurance123 brand already has this feature. It is an aspect highly regarded by GapInsurance123 customers, and is the main reason for the inclusion with Easy Gap also, as Aequitas director Mark Griffiths explained.
"Of course we recognise that consumers who wish to purchase Gap Insurance are naturally concerned on how the claims process would work if required. A commitment to a 14 day settlement from the motor insurance payout has been written into GapInsurance123 policy terms for some time. We feel this gives the firm commitment that consumers look for, and is one of the fundamental reasons why GapInsurance123 has been so successful in the market today.
When the decision was made to change underwriting insurer on the Easy Gap brand, one of the first features we requested was the same 'fast track' claims process."
Aequitas Automotive believe innovations 'with the customer in mind' is one of the major reasons for the success of their brands, and that this will continue into 2013 as Mark Griffiths continued.
"Innovation in product features is essential, and we feel that Aequitas has always tried to lead the way. For example, we are the only UK provider to offer the 'fast track' claims process from two different Gap Insurance underwriters. Aequitas also were the first to announce the intention to provide Return to Invoice and Vehicle replacement for 5 years, as well as offering pro rata refunds if a policy was cancelled early.
The fact that we have two major Gap Insurance brands in Easy Gap and GapInsurance123, demonstrates our success at fulfilling our commitments for two different insurers. Indeed, such has been our success in 2012, a third Gap Insurance brand is intended in 2013 as well as at least one new tyre insurance brand."
Aequitas Automotive confirmed that the new 'fast track' feature is now available via the Easy Gap online platform.