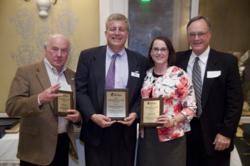 It's particularly timely when you consider that any company/organization's Group Health costs are second only to salaries, in terms of their current overhead costs
Pacifica, CA (PRWEB) September 16, 2011
With the economy still in bad shape, governmental budget battles usually mean the trimming of public sector jobs and benefits to teachers, police and firefighters. These organizations are all in dire need of financial assistance right now and Pacifica's Trowbridge's Group Health strategy helps clients save 30 percent on their Group Health costs without reducing benefits to their employees.
"It's particularly timely when you consider that any company/organization's Group Health costs are second only to salaries, in terms of their current overhead costs," states Corrin Trowbridge of Trowbridge Insurance. "We invite these organizations to contact us to allow us to show them a side-by-side comparison of this strategy in place, compared to what they are currently paying. The numbers will truly impress them!"
Pacifica's Trowbridge Insurance's Group Health is available through a Third Party Administrator (or a TPA), and focuses on allowing the client to keep their current doctors, while reducing costs by re-tooling the way they pay for their Group Health policy.
For a free group insurance quote from Trowbridge Insurance, call (650) 355-5396, or visit them on the web at http://www.trowbridgeins.com/new/index.php.
About Trowbridge Insurance
Trowbridge Insurance has been serving their San Mateo County clients since 2002 and is a one-stop partner for all your insurance needs. The company's main focus is to provide clients with proven solutions to current, and future insurance needs, making sure that they maintain the coverage they desire at the lowest reasonable cost. Trowbridge Insurance prides itself on customer service, and invites you to visit our reviews on Yelp.com.
# # #