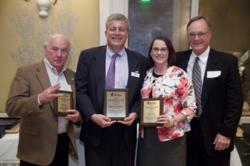 This TPA's value statement is that they have actually determined the basis for a strategy that is allowing their customers to maintain their benefits while saving a substantial amount by restructuring the way the client is paying their carrier
Pacific, CA (Vocus/PRWEB) July 01, 2011
Health Insurance is on a lot of people's minds these days—especially for companies providing group health coverage for their employees. They are seeing their premiums increase by double digits annually, and the group health premium is now, for most companies, second only to salaries in terms of overhead expense. Up until now, employers have faced three options when it came to their rising healthcare costs:
1) Accept the annual increases and hurt their bottom line.
2) Ask employees to contribute more to maintain the same benefits., or
3) Reduce or eliminate benefits for employees.
None of these are attractive choices for businesses looking to maintain happy employees and a healthy balance sheet.
Corrin Trowbridge is working with a Third Party Administrator (TPA), who has 14 years of experience in helping businesses adapt to the ever-changing insurance landscape. They have over 3,000 loyal customers and enjoy a 95 percent renewal rate. This indicates that they are delivering on their promises.
"Their customer loyalty tells me, in this market where your policy is shopped every renewal because of the onerous rate increases, it's not so much WHO you pay, but HOW you pay that delivers real savings," said Trowbridge.
A TPA doesn't sell insurance, but administers group plans for businesses and organizations.
"This TPA's value statement is that they have actuarially determined the basis for a strategy that is allowing their customers to maintain their benefits while saving a substantial amount by restructuring the way the client is paying their carrier," said Corrin. This strategy is based on their actuarial insight that only a small portion, about four to seven percent of employees, are 'heavy utilizers,' or those that will max out their deductible in a given year. Additionally, 50-70 percent of employees don't use their health insurance, or use it so little it will not reach their deductible, thus having no effect on the savings to the business."
The TPA uses high deductible plans to save 50 percent off the premium of a traditional plan. It is with those savings that pay for the actual deductibles used out of a company-owned savings account. After a small fee to the TPA for their service, there is a net savings of 30 percent to the business. With this strategy companies can maintain the benefits their employees enjoy while saving considerable sums on one of their largest overhead costs.
For more information about how you can put this actuarial insight to use for your benefit, call Trowbridge Insurance at 650-557-4869or visit them at http://www.trowbridgeinspacfica.com.
About Trowbridge Insurance
Since 2002, Trowbridge Insurance has provided residents of Pacifica and San MateoCounty with Insurance services including Homeowners, Life, and Auto Insurance. Their extensive experience gives them insight into the insurance industry that is unrivaled by their competitors. Trowbridge Insurance can save homeowners money on all of their insurance needs without sacrificing protection.
###