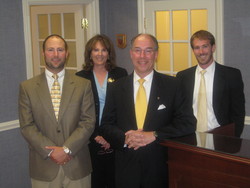 Virginia Beach, VA (PRWEB) July 22, 2009
The Ware Insurance Agency has implemented a state-of-the-art online client interface system designed to further enhance clients' access to policy and claim information. The new technology paves the way for effective risk management in today's digital age.
Clients will have online access to a variety of data, including general coverage information, detailed data for commercial fleets and vehicles, billing data, claim documentation and online certificates.
Ware Insurance is one of the largest, locally owned independent insurance agencies in Southeast Virginia. Since 1961, the company has provided high quality insurance products and risk management services to clients in industries such as manufacturing, construction, health care, marine, professional services, and hospitality, as well as to residential customers.
The firm offers Customized Business Insurance, Construction and Professional Bonds, Employee Life & Health, an Executive Insurance Coverage Package and homeowner policies nationally and internationally. Its worldwide clients include electronics distributors, facility engineers, agricultural supply companies, textile and retail distributors, and large hotels in geographic areas including China, Great Britain, India, Germany, Asia, Canada, Mexico, and South America.
Edwin C. Kellam, Jr., President says, "Since its inception, Ware Insurance has been steadily building on a solid foundation of industry experience, work ethic and a dedication to client service. This new product simply continues and extends our branding given today's high technology opportunities. Our team is excited to offer this to our current as well as new clients."
For more information, contact Debi Wacker, LightSource Marketing, Virginia Beach, Virginia (757) 647-6603, e-mail: dwacker (at) lightsourcemarketing.com. Please reference Ware's services and corporate profile at our web site.
###