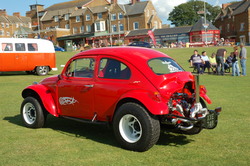 Because we tailor our policies to individual customer's needs we are finding more and more people turning to us when looking for insurance. This has given us the opportunity to expand and dramatically increase our workforce
(PRWeb UK) August 28, 2009
Despite the recession Norfolk-based insurance broker Adrian Flux Insurance Services has just launched a major recruitment drive offering 100 new jobs at its King's Lynn headquarters. The company will increase its workforce by about 20%, and there are openings not only for experienced personnel but also talented youngsters.
Flux is well known for its pioneering approach to insurance and for being on the cutting edge of insurance matters. For example it aims to cover drivers that other companies don't want to touch, such as young drivers, those with convictions and those with hard to insure vehicles such as classic cars, military vehicles, imports and other niche markets.
The growth highlights the buoyant nature of the company. Recent expansions have seen the growth of Bikesure, its motorcycle division, and Flux Household, a division that offers home insurance policies as well as specialist landlord insurance.
"Because we tailor our policies to individual customer's needs we are finding more and more people turning to us when looking for insurance. This has given us the opportunity to expand and dramatically increase our workforce," says Gerry Bucke of Flux. "What's even more interesting is that we can offer lots of these jobs to young people, who have been particularly hard hit by the downturn in the job market.
"On-line quotes and sales generate a huge amount of business. But because we specialise in hard to insure vehicles and properties we always advise customers to phone us, so that we can be sure of getting them the best terms available."
The vacancies are in most areas of the company, from customer service and administration through to sales.
To find out more about the job vacancies with Flux ring 0844 888 3000 and ask for Anya McCarthy or email [email protected]
For details on insurance contact the Adrian Flux quote line on 0800 081 8989, email the company at quotes(at)adrianflux.co.uk or see the Flux homepage on http://www.adrianflux.co.uk
One hundred new jobs at Flux b.doc - Aug-09
PRESS ENQUIRIES:
Toni Turner or Alison Haynes at The Publicity Works
Tel: 01263 761000 Email: [email protected]
Gerry Bucke of Adrian Flux Insurance Services: 0800 081 8989
###