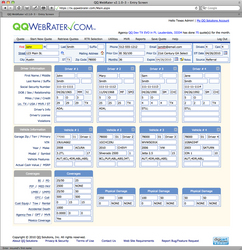 As QQ WebRater is a Web application, there's no software to install, update and maintain.
Deerfield Beach, FL (PRWEB) May 13, 2010
QQ Solutions, Inc, a leading provider of software and Web-based technology solutions for the insurance industry, today announced the release of QQ WebRater™ version 2 in Florida and Texas. Previously available only in Florida, the Web-based comparative rater now adds full support for auto insurance carriers in the state of Texas.
QQ WebRater version 2 is the company's newest auto insurance comparative rater and provides real-time quotes for up to 6 cars and 6 drivers from more than 70 insurance carriers—representing over 150 auto insurance products—in the states of Florida and Texas. QQ WebRater provides insurance agents with real-time comparative rating, pulls credit and MVRs, bridges to carriers' Web sites, binds policies and works together seamlessly with the company's QQ Evolution and QuickFile agency management systems.
QQ WebRater is a Web-based software-as-a-service (SaaS) application designed using the latest Web standards and technologies. QQ WebRater is a completely hosted solution and is backed by the company's Service Level Agreement (SLA). There is no software to install or maintain and QQ WebRater can be accessed using the Web browser on an agent's PC or Mac, wherever a wired or wireless Internet connection is available. Additionally, QQ WebRater incorporates strong 128-bit SSL security.
Mark Malis, CEO of QQ Solutions stated, "With the release of QQ WebRater version 2, we're now able to offer independent insurance agencies in Texas and Florida the latest technology for obtaining accurate quotes from multiple auto insurance carriers. As QQ WebRater is a Web application, there's no software to install, update and maintain. Agents enter information once in their Web browser and receive multiple quotes in seconds from leading carriers. This saves agents time and money, letting them focus on customer service and selling more policies to grow their business."
QQ WebRater version 2 is available immediately at http://www.QQWebRater.com or on the company's main Web site at http://www.QQSolutions.com.
About QQ Solutions, Inc.:
QQ Solutions is a full-service technology and data services company that is committed to providing the Insurance Industry with easy-to-use, feature-rich solutions that enhance productivity, reduce operating expenses, help eliminate paperwork, increase revenues and provide the best value for insurance agencies nationwide. Now in its 23rd year, the company strives to delight its customers by exceeding their expectations in product quality, customer service, training & support, and by meeting their evolving needs through a program of continuous product development and improvement incorporating the best available technologies.
QQ Solutions' headquarters is located in Deerfield Beach, Florida, where the company employs 65 people in software development and testing, product management, product support, training, marketing, sales, IT and administration.
For further information, call the company at 1.800.940.6600, or visit the QQ Solutions Web site at: http://www.QQSolutions.com.
Contact:
Andrea Boyle, Director, Product Management
QQ Solutions, Inc.
1.800.940.6600
http://www.QQSolutions.com
###