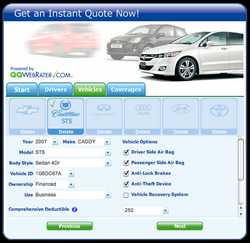 Our highly customizable real-time consumer-quoting portal enables the agency's Web site to produce for them 24/7
Deerfield Beach, FL (PRWEB) May 13, 2010 —
QQ Solutions, Inc, a leading provider of software and Web-based technology solutions for the insurance industry, today announced QQ WebAgent—a customizable consumer portal that provides real-time auto insurance comparative quoting capabilities to independent insurance agency Web sites in the State of Florida.
QQ WebAgent enables agents to offer consumers real-time auto insurance comparative quotes from their Web site. Unlike other consumer-facing solutions that have a similar look-and-feel and are not user friendly, QQ WebAgent offers an easy-to-use interface with the shopper's choice of English or Spanish. It's completely customizable, allowing agencies to provide a unique look-and-feel, including branding parameters, such as selectable colors, configurable input questions, default values, quote results display and much more.
The application is packaged as a Web widget designed to plug into any Web site with minimal effort. QQ WebAgent is integrated with the highly secure QQ WebRater Platinum agent-facing comparative-rating system to provide a complete sales management solution.
"According to a survey of auto insurance consumers conducted by comScore, 63% of respondents said that they went online to get a quote," said Michael Stebel, COO of QQ Solutions. "QQ WebAgent gives independent agents the tools to exploit this growing trend by allowing consumers to shop for a quote right from their Web site. Our highly customizable real-time consumer-quoting portal enables the agency's Web site to produce for them 24/7."
QQ WebAgent is bundled with the company's latest Web-based comparative rater, QQ WebRater Version 2 Platinum Edition and is available immediately for Florida insurance agencies at: http://www.QQWebRater.com. The product will be available in Texas later this year.
About QQ Solutions, Inc.:
QQ Solutions is a full-service technology and data services company that is committed to providing the Insurance Industry with easy-to-use, feature-rich solutions that enhance productivity, reduce operating expenses, help eliminate paperwork, increase revenues and provide the best value for insurance agencies nationwide. The company strives to delight its customers by exceeding their expectations in product quality, customer service, training & support, and by meeting their evolving needs through a program of continuous product development and improvement incorporating the best available technologies.
QQ Solutions' headquarters is located in Deerfield Beach, Florida, where the company employs 65 people in software development and testing, product management, product support, training, marketing, sales, IT and administration.
For further information, call the company at 1.800.940.6600, or visit the QQ Solutions Web site at: http://www.QQSolutions.com.
Contact:
Andrea Boyle, Director, Product Management
QQ Solutions, Inc.
1.800.940.6600
http://www.QQSolutions.com
###