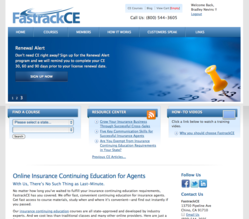 "As an agency owner, the Renewal Alert helps ensure that our employees complete their CE to keep their license current. With my busy schedule, I appreciate the reminder and see it as a valuable tool for anyone that holds an insurance license"
Chino, CA (PRWEB) December 21, 2011
Insurance agents know the importance of keeping up with continuing education. For busy agents who could use a handy reminder, FastrackCE's groundbreaking Renewal Alert program might be just the thing to avoid paying hefty state fines for failing to complete required CE training.
With the launch of their new website this fall, FastrackCE integrated this brand-new feature. The Renewal Alert program sends reminders via email to complete CE 90 days, then 60 days, and finally 30 days prior to license renewal dates. By completing a short online form on FastrackCE's website and providing contact info and license expiration date, the Renewal Alert Program kicks into gear.
"As an agency owner, the Renewal Alert helps ensure that our employees complete their CE to keep their license current. With my busy schedule, I appreciate the reminder and see it as a valuable tool for anyone that holds an insurance license," says Andy Byers of Savewest Insurance.
The Renewal Alert was developed as part of FastrackCE's continued commitment to providing quick, easy access to insurance continuing education credits. According to founder Brad Nevins, "Many of our students look at their continuing education needs just prior to their license expiration. Insurance agents today have many demands; we wanted to make their continuing education one less thing they have to worry about."
FastrackCE has been bringing fast, easy, and convenient online continuing education courses to insurance agents since 2000. Today, their executive leadership team offers over 70 years of combined experience in the insurance industry. FastrackCE is currently state-approved to offer their extensive course catalog in 35 states, and they are aggressively pursuing approval in the remaining states.
###