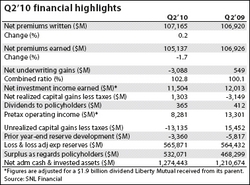 Continued lower soft market pricing, low interest rates and declining reserve releases resulted in a mediocre quarter for U.S. insurers.
Charlottesville, VA (Vocus) September 20, 2010
Complete second-quarter 2010 statutory insurance results are in for U.S. property & casualty companies, and the data reveals declines in underwriting and net investment income resulting in a 38% drop in pretax operating income year-over year for the industry, according to SNL Financial.
Last month, SNL's analysis of preliminary second-quarter results found that the P&C industry experienced modest growth in premiums written but deterioration in underwriting profitability. With all second-quarter data (including adjustments) now available, SNL's analysis shows:

P&C companies reported a second-quarter combined ratio of 102.8%, up from 100.1% in the prior-year quarter, resulting in a net underwriting loss of $3.1 billion.
Quarterly net investment income declined by 4%, representing the third consecutive quarter of year-over-year declines. (Adjustment made for a $1.9 billion dividend Liberty Mutual received from its parent.)
Unrealized capital losses totaled $13.1 billion in the second quarter, reversing four consecutive quarters of gains totaling $42.0 billion.
Prior year-end reserve development dropped to $3.4 billion from $5.8 billion in second-quarter 2009.
"Continued lower soft market pricing, low interest rates and declining reserve releases resulted in a mediocre quarter for U.S. insurers," said Jon Wright, SNL's Director of Insurance. "As reserve releases continue to work their way out the system and investment yields remain low, the industry's return on equity should continue to decline."
SNL's statutory data includes detailed financial data on each filer, reinsurance, investment and loss reserve schedules, data by state and line of business and hundreds of ratios, snapshots and analytics, available exclusively as part of SNL Unlimited service for Financial Institutions. SNL is the only information provider to offer clients a comprehensive insurance product, linking statutory data with public company data, mergers & acquisitions data, proprietary news, documents and more. To find out more about SNL Unlimited, contact sales(at)snl(dot)com or call 866.296.3743.
About SNL Financial
SNL Financial is a leading provider of financial information on more than 3,300 public companies and 50,000 private companies in the business sectors critical to the global economy: Banking, Financial Services, Insurance, Real Estate, Energy and Media & Communications. The SNL information service integrates breaking news, comprehensive data and expert analysis into an electronic database available online and updated around the clock. For more information, visit http://www.snl.com .
Visit the SNL Press Room to learn more about resources available to members of the media.
SNL Contact
Monica Jenkins
Press Relations Manager
+1.434.951.6951
mjenkins(at)snl(dot)com
SNL Financial
One SNL Plaza
Charlottesville, VA 22902
+1.434.977.1600
Other office locations:
Ahmedabad, India; Arlington, Va.; Boston, Mass.; Boulder, Colo.; Islamabad, Pakistan; Jersey City, N.J.; London; Monterey, Calif.; New York.
###