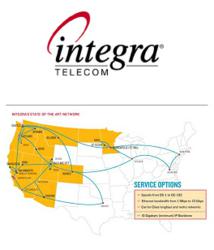 With the addition of Integra Telecom's pricing in GeoQuote, finding the best fit for business customers will be a snap.
Sandy, UT (PRWEB) June 10, 2011
Telarus Inc., premier telecom master agent and patent holder of real-time carrier quotes, today announced they have entered into an agreement with Integra Telecom Inc., a leading fiber-based communications provider to businesses in the Western and upper Mid-Western United States. The new opportunity will open the doors for Telarus agents to sell Integra's award-winning business voice, data, and Ethernet-based services.
"We are excited to finally add Integra to our carrier portfolio," commented Adam Edwards, President of Telarus. "Integra's push to build more fiber to the customer premise and generally increase bandwith options in their footprint lines up with our agent's migration to these solutions."
In preparation for the launch, the Telarus IT team has successfully integrated Integra Telecom's products into GeoQuote, the real-time online quoting system used by Telarus agents to perform price and availability research on behalf of their clients. Those with access to GeoQuote now see pricing for Integra Telecom's solutions including: DSL, data T1, bonded T1, integrated T1, local voice, and more.
"Telarus and its agents have a solid reputation of serving businesses of all sizes and we're pleased to have them onboard as an agent partner," said Ken Worcester, Vice President of Indirect Sales for Integra Telecom. "Integra enhances the Telarus offering with a broad portfolio of fiber-based, customizable products, services and tools that provides companies in our 11 state footprint with comprehensive telecommunications solutions. Whether it's our core voice or data services or next-generation solutions like MPLS, Ethernet enabled services or SIP trunking, Telarus can create real value by offering its agents Integra's solution."
Integra Telecom is the fourth-largest CLEC in the United States, boasting a 3,000+ route-mile (160,000 fiber miles) metro area network and more than 5,000 route-mile long haul network.
"Integra a fantastic carrier that has a focus on the future: Ethernet" added Robert Butler, VP of Sales for Telarus, Inc. "With Integra's products, price points, and coverage area, coupled with our agents ability to instantly view pricing and availability in GeoQuote - is a winning combination. We look forward to selling it in bulk."
If you are interested in becoming a Telarus telecom agent and adding Integra Telecom to your own product suite, please contact Justin Chugg at (877) 346-3232 or visit telarus.com for more information.
About Integra Telecom
Integra Telecom Inc. provides voice, data and Internet communications to thousands of business and carrier customers in 11 Western states, including: Arizona, California, Colorado, Idaho, Minnesota, Montana, Nevada, North Dakota, Oregon, Utah and Washington. The company owns and operates a best-in-class fiber-optic network comprising metropolitan access networks, a nationally acclaimed Internet and data network, and a 4,700-mile high-speed long haul network. The company has earned some of the highest customer loyalty and customer satisfaction ratings in the telecommunications industry. Integra Telecom and Electric Lightwave are registered trademarks of Integra Telecom Inc. For more information, visit http://www.integratelecom.com.
About Telarus
Telarus, Inc. is a leading master agent who works with 30 carrier service providers and 250 independent telecom sales agencies nationwide. Established in 2002, Telarus leverages GeoQuote, a patented real-time quote engine, to provide near instant pricing for transactional services. Large deal support is offered by Telarus' award-winning team of veteran carrier experts that help agents improve their sales of complex solutions. Telarus was named the top master agent by the members of the Telecom Association in 2008, 2009, and 2010.
# # #