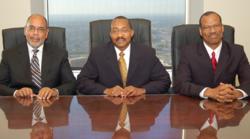 Three of the Southeast's most successful construction and development professionals, Samuel L. Gude III, Kenneth S. Chestnut and Egbert L. J. Perry, have formed IntegralGude LLC (IG).
Atlanta GA (PRWEB) October 14, 2011
Three of the Southeast's most successful construction and development professionals, Samuel L. Gude III, Kenneth S. Chestnut and Egbert L. J. Perry, have formed IntegralGude LLC (IG). The new company, based in Atlanta, will formally bring together executives highly regarded in the Program Management and Construction fields.
A unique opportunity to secure market share both through acquisitions and organically in domestic and emerging markets is at the core of the strategy to launch during an economic downturn.
Gude will serve as Chief Executive Officer, Chestnut will be a Senior Executive, and Perry will act as Chairman of the Company's Board of Advisors and continue as Chairman and Chief Executive Officer of The Integral Group, a national real estate company. Other members of the Board include:
1. Mike Evans, former Georgia State Legislator and Chairman of Georgia Department of Transportation Board
2. Michael Anderson, Senior Vice President of Southern Company and CEO of Georgia Power Foundation
3. Eugene Duffy, Senior Vice President of Paradigm Asset Management
4. Simon Foster, a Consultant with extensive public-private partnership experience on infrastructure projects
5. Carl Powell, a partner in The Integral Group and responsible for that company's Capital and Emerging Markets divisions.
IntegralGude will provide four essential services:
1. Program Management
2. Construction/Construction Management
3. Infrastructure Development
4. Facility Operations and Maintenance
IG's target markets will be in the area of Sustainable and Comprehensive Infrastructure and Building Solutions. The company will undertake major capital programs in transportation, aviation, education, water and sewer, healthcare, the management of institutional projects, and the construction of commercial projects and multi-family and senior housing.
Having benefitted early in their careers from guidance and mentorship from Atlanta business leaders, the IntegralGude principals are committed to being mentors to a new generation of entrepreneurs. More information can be found at the company's website (http://www.integralgude.com).
Backgrounds of the three executives guiding IntegralGude (photo attached):
Samuel L. Gude III - Chief Executive Officer
Sam Gude and Egbert Perry first met in 1981 when Gude was a Project Manager at Beers Construction Company. Gude credits his coaches and mentors at Beers Construction for giving him an opportunity to learn and grow. Gude held many positions over a twenty-four (24) year career at Beers and Skanska, the successor company.
Gude helped build the Education and Government Business Units for SKANSKA's Georgia office. Under Gude's leadership the two business units' annual revenue exceeded $250 million. He eventually became Executive Vice President and Managing Director of the Federal Sector nationally.
Embracing a commitment to client satisfaction, Sam founded Gude Management Group (GMG) in 2005. GMG is an Atlanta-based provider of construction program management services. GMG was ranked as the sixth (6th) fastest growing private company in Atlanta by the Atlanta Business Chronicle in 2008. Some of GMG's marquis clients include Wachovia Bank, Center for Civil & Human Rights, College Football Hall of Fame, Georgia Department of Transportation, Metropolitan Atlanta Rapid Transit Authority, Glynn County School District, Ft. McPherson, DeKalb County Schools, and Atlanta Public Schools.
Gude has a lifetime commitment to community service and civic involvement and currently serves on the boards of the Atlanta Technical College Foundation, Metro Atlanta YMCA, Georgia Chamber of Commerce, and KIPP Metro Atlanta. He also serves on the board of advisors of the Metro Atlanta Chamber of Commerce and Central Atlanta Progress. He is a past board member of the Georgia Regional Transportation Authority.
Kenneth S. Chestnut, Sr., Senior Executive
Ken Chestnut is President and Chief Executive Officer of IBG Construction Services LLC. (IBG), a company he founded in 1998. As the Chief Executive of IBG, he has been responsible for managing all facets of the business, including financial and operational performance, as well as banking and bonding relationships. Under his leadership, IBG has grown to over $60 million in revenues annually, expanded its core business activities geographically, and positioned IBG as an industry leader in the area of Sustainability.
Chestnut has been in the construction industry for over 40 years and has managed projects with a capital construction value in excess of $1.7 billion and as high profile as projects designed by the renowned architect, I. M. Pei. Ken has a successful track record with extensive experience in all types of projects, including the construction of multi-family and senior rental housing, education, transportation, industrial, healthcare, commercial, R&D labs, criminal justice facilities and public improvements.
He established a relationship with Perry in 1989, while Perry was President of H J Russell & Company (Russell). Perry recruited Chestnut to serve as President and Chief Operating Officer of Russell's construction division. Chestnut worked with clients that included Fortune 100 Companies, as well as prominent colleges and universities. Ken was also involved in managing the construction of some of the most significant projects built in the city of Atlanta and also worked with Gude over the years on many of these projects, such as the Olympic Stadium, among others.
Ken is a graduate of Duke University with a Bachelor of Science Degree in Civil Engineering. He has also made significant contributions to the community, and currently serves on the boards of Atlanta Metro Boys and Girls Club, St. Benedict's Episcopal School, and The Center for Working Families. He is also a Trustee Emeritus on the Board for Oglethorpe University. Ken is also a former member of the Board of Visitors for the School of Engineering at Duke University and served on the Board of the Atlanta Streetcar. He was in the Leadership Atlanta Class of 1993. He is an active member of St. Paul's Episcopal Church in Atlanta where he just completed his term on the Vestry serving as Senior Warden.
Egbert L. J. Perry, Chairman of the Board of Advisors
In 1980, Egbert Perry, under the mentorship of Herman Russell, took the helm at H J Russell Construction Company and helped to build that company into the largest minority-owned general contractor in the United States. In 1988, at the age of thirty-two (32) he was named President of H J Russell & Company, the parent company. A year later, he hired Chestnut to head Russell's construction division.
By the end of 1992, when Perry left Russell to start The Integral Group, Russell was the third largest minority business in the United States with annual revenues approaching $200 million. Perry continues to credit Mr. Russell for the tremendous opportunity that he was provided.
In addition to chairing the board of IntegralGude, Perry will continue to serve as the Chairman and CEO of The Integral Group, a national real estate development, investment and management company. The Integral Group has implemented major development projects in over a dozen urban markets in the Southeast and Mid-Atlantic regions of the United States and, more recently, internationally. Many of the projects undertaken by The Integral Group have been award-winning public-private, transformational projects.
The Integral Group was the private partner that, working with the Atlanta Housing Authority, created the country's first model for holistic community development integrating mixed income housing, education, recreation, and community services. Its Centennial Place development, next to Georgia Tech, was the first such holistic community development project in the nation, and served as the national model that is being replicated in Atlanta and in other cities across the country.
Last fall, Perry was inducted into the Hall of Distinction for Real Estate by the Real Estate Investment Advisory Council and Georgia State University. Having completed a seven (7) year tenure on the board of the Federal Reserve Bank of Atlanta in 2008, Perry currently serves on the boards of Fannie Mae, the mortgage giant, the University of Pennsylvania and chairs the boards of Atlanta Life Financial Group, Central Atlanta Progress and the Penn Institute for Urban Research. Perry completed long tenures on the boards of Children's Hospital of Atlanta, the Atlanta International School and The United Way of Metropolitan Atlanta.
IntegralGude is currently working on its first acquisitions, and is actively assembling an executive team to help build the company.
Photo Left to Right: Ken Chestnut, Sam Gude and Egbert Perry. Photo credit: IntegralGude, LLC
Media Contact:
Ortez Gude
(404) 856-4400
media(at)integralgude(dot)com
###