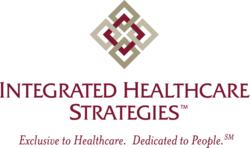 For a staff total compensation plan to be truly effective, it must consider more than just base pay.
(PRWEB) July 19, 2012
Integrated Healthcare Strategies, a national compensation and human resource consulting firm dedicated exclusively to healthcare, today announced industry data from its published 2012 National Healthcare Staff Compensation Survey.
The firm, which operates offices in Dallas, Kansas City, Minneapolis, and Palm Springs, has conducted healthcare compensation surveys for over 20 years on staff, leadership, nursing, director, advanced practice clinician, and medical director pay practices.
The 2012 National Healthcare Staff Compensation Survey, which is co-sponsored by The American Society for Healthcare Human Resources Administration (ASHHRA), reported the average projected merit increase over the next 12 months across all staff positions to be 2.2%. Looking back to the previous 12 months, the national average merit increase given was 2.2%, which is consistent with prior projections for 2011. If trending remains consistent, the 2012 projected increase is likely to be consistent with actual increases for the year.
The actual average for market increases over the last 12 months continues to remain low at only 1.0%, nationally, across all staff positions.
Unique from other industry surveys, the 2012 National Healthcare Staff Compensation Survey features a special section dedicated to best practices and issues in staff compensation. The additional insights provide organizations with supporting information to make smarter decisions when designing staff compensation programs.
"For a staff total compensation plan to be truly effective, it must consider more than just base pay. For that reason, we have designed our survey to provide comprehensive data on salary structures, differentials, pay practices, compensation philosophies and hiring policies, incentive plans, and more for an extensive listing of positions," said Kelly Taylor, Senior Consultant in the Staff and Director Compensation Services practice of Integrated Healthcare Strategies. "This level of data is why our Staff Compensation Survey is a critical component to compensation plan review and design for so many healthcare organizations each year."
Other highlights of the 2012 Survey include the addition of 20 positions, which were added based on participant feedback. The survey now includes data on over 250 benchmark positions.
The full survey report is available to both participant and non-participant organizations. Organizations interested in purchasing the 2012 National Healthcare Staff Compensation Survey can email the Compensation Survey Department at Integrated Healthcare Strategies at Comp.Surveys@IHStrategies.com or can call 1-800-327-9335.
Currently open for participation is the firm's Advanced Practice Clinician Survey, a focused study of total cash compensation, productivity, and pay practices for nurse practitioners, physician assistants, and certified nurse midwives. Integrated Healthcare Strategies conducts compensation surveys on a wide range of key healthcare positions. To see details on all the firm's compensation surveys, please visit http://www.ihstrategies.com.
###
About Integrated Healthcare Strategies
Integrated Healthcare Strategies provides healthcare organizations with direct access to a comprehensive array of healthcare-specific services, delivered by professionals from the industry who understand the rigors of running a healthcare organization – from the lunchroom to the Board Room. Its client list is a "who's who" of healthcare organizations including over 1,200 major healthcare providers, 1,800 hospitals and 700 independent and affiliated medical groups. Integrated Healthcare Strategies specializes in the areas of physician strategy and compensation, employee compensation, executive compensation, human resource solutions, labor relations, leadership transition planning, executive search, compensation and employee engagement surveys, performance management, board governance solutions, and M&A transition issues. For additional information contact Julie McCauley at 800-327-9335 or at julie.mccauley(at)IHStrategies(dot)com. Visit Integrated Healthcare Strategies online at http://www.IHStrategies.com, or view our blog at http://ihstrategiesblog.com.