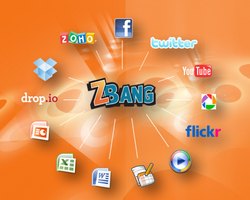 "Zbang.it breaks the barriers between the different sites, services and applications and let users manage, communicate, share and work collaboratively with anyone on any site in an elegant and simple way with almost no electronic footprint."
Tel Aviv, Israel (PRWEB) December 16, 2009
Zbang.it, an innovative developer of integrated online communication platform for Internet and mobile users, today announced the launch of the first free integrated solution for managing all Twitter, Facebook and email activity from one place.
One of the most common difficulties Internet users face is the need for constant movement between different websites and applications. Moreover, people want to share content with others who are using other platforms that do not necessary connect with one another.
For example, until now, a user who received a message or a picture by email and wanted to share it with his friends in Twitter or Facebook, faced a long and demanding procedure. Zbang.it is the only solution that enables effortless movement across different communication platforms, making it easy to directly share anything with anyone, anywhere.
The new integrative platform, which is available for free download at Zbang.it's website (http://www.zbang.it), simplifies the experience of sharing music, pictures and videos, managing emails and social network activity, controlling and searching all documents stored on the desktop and the Web quickly and simply.
"The amount of content that we generate, circulate and share is ever growing," said Zbang.it's CEO Eidan Apelbaum. "Services like email, Facebook, Twitter, photos and music sharing are becoming the standard means of communication. Our documents, files, pictures and contacts are scattered all around: Outlook, Picasa, Flickr, YouTube, Gmail, Hotmail and different devices like IPhone, home and work computers, which all, by design, do not work well together.
"Zbang.it breaks the barriers between the different sites, services and applications and let users manage, communicate, share and work collaboratively with anyone on any site in an elegant and simple way with almost no electronic footprint," he added.
Zbang.it features include:

Share – Zbang.it offers an easy way to share music, pictures and documents. From one location, you can view pictures stored on the desktop, as well as Flickr, Picasa, Facebook, or any other photo-sharing site. Those pictures are ready for editing, printing and resending in any way the user chooses – email, Facebook or Twitter. It also makes it possible to share music and listen to songs and playlists stored on the desktop, as well as on sites such as Songza.
Collaborate – Zbang.it's collaboration tools, including Google Docs and Drop.io, allow users to create, edit and even work simultaneously with their business partners and colleagues on documents, spreadsheets and presentations. These tools enhance the ability to share and exchange large digital files. The experience is as simple as moving documents on your computer from one folder to another. Collaboration has never been easier.
Connect – Zbang.it allows users to manage their emails and social network activity from one central location. The integrated Inbox lets them watch emails, Facebook and Twitter updates and directly contact anyone in any interface they choose.
About Zbang.it
Zbang.it is an innovative developer of an integrated online communication application. Zbang.it's platform offers users one place to connect share and collaborate with everyone. It offers a cross-application platform that allows borderless communication, centralization of content and integration of contacts.
Zbang.it's unique platform saves on the time and effort of constant flipping from one site to another and potentially missing out on important information. By providing flexible integration to different communication outlets, Zbang.it connects people socially and professionally, enabling them to use any service to collaborate, share and manage their important information securely and easily, from anywhere to anyone, any way for free.
For more information about Zbang.it or to download the new platform, please go to http://www.zbang.it.
Contact info
Dr. Eidan Apelbaum
CEO
Zbang.it
Mobile: +972-52-8830686
# # #