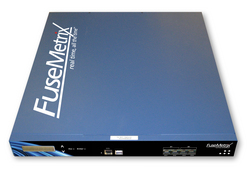 Milton Keynes, Buckinghamshire UK (PRWEB) October 2, 2008
Web Office Systems this week launched their new FuseMetrix Enterprise Server. Previously the FuseMetrix system has been available on a SaaS basis, however the full application is now available in a simple to configure dedicated server platform that can be installed on your own site or datacenter.
The way information technology works in a company or organisation is more critical to businesses than ever before. Quality data and the information that can be outputted from the system may just be the key to survival in these difficult economic times.
Many great manufacturing and service companies organise themselves along the following lines with 'Everything in its place and a place for everything!' at the heart of their production and/or administration systems.
A tidy workplace where everything flows in a sequential and orderly manner ensures that productivity is optimised.
But does the rest of the operation run as smoothly. Is there a sequential and orderly flow of data in an accurate and timely fashion?
Is information
a) in the right place?
b) on the same database?
c) easy to find?
d) easy to get at?
What about those Key Performance Indicators (KPI's) Do they come automatically or do various departments have to collate data from various sources then prepare spreadsheets before management see them?
Organisations that have a fully integrated Business Operating and Management Information System should have answered yes to all of the above.
Any Company or Organisation that would answer with just one 'No' is not working as effectively or efficiently as it can do.
Most people agree that the best solutions are fully integrated. The launch, last year, of the hosted (over the internet) fully integrated FuseMetrix Business Operating and Management Information System answered all of these questions and more for the SME market place.
Now, one year later the next generation of FuseMetrix comes in a box. The new dedicated FuseMetrix Enterprise Server is a total Business solution for all types of Organisations with all data residing on one database and with information available in real-time all of the time. This solution solves the problem where internet connections are slow or unreliable and gives Companies the real benefits of total Business integration with information available on demand.
Companies and Organisations can now have all of the functionality they need to run their operation from one database:-
CRM, contact management, enterprise e-mail, diary planning, document management (all can be linked to client records), SRM, purchasing management, purchase orders, invoicing, delivery notes, delivery tracking, estimating and quoting, project management, expenses, Human Resources, product traceability, engineering, manufacturing, warehousing, stock management, multi-currency capability, accounting and V.A.T.
FuseMetrix is applicable to any type of Company or Organisation whatever it does .
Manufacturing, Warehousing, Distribution, Logistics and Engineering Companies, Healthcare, Project Management, Consulting and Financial Services organisations, Retail, Leisure and Entertainment Industries, Advertising, PR, Printing and Publishing Companies, Trade Associations, Franchises, and Market Research Agencies, Small, Large, Public or Private…..
All do IT better with FuseMetrix.
Once a client's requirement is specified Web Office Systems delivers the FuseMetrix Enterprise Server configured and ready to go. Staff training is included in the price. The standard FuseMetrix Enterprise Server is available for only £20,000 +VAT. A small price to pay to do IT better!
Additional services can be added as required
FuseMetrix is already e-commerce enabled and can be integrated with a Company or Organisation web-site.
Existing data can be migrated and further specific customisation can also be accommodated.
Web Office Systems Limited are exhibiting the new FuseMetrix Enterprise Server at Inside Ex Bedford on Friday 3rd October. More information and case studies can be found at FuseMetrix
###