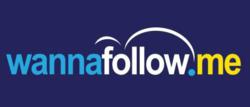 We are excited about the new integration with Pinterest. It gives the users a backlink from the fastest growing social media platform creating quality SEO - Roger Safont / CEO
Tampa, FL (PRWEB) April 17, 2013
The creators of WannaFollow.Me have created a new online software called 'Facebook Marketing Software" which helps unlock the power of Facebook and grow fan pages organically.
One of the problems that most Facebook marketers have discovered, is that having a Facebook account does very little to make sales. Most marketing on Facebook fails, as the users rarely go there to buy anything. FacebookMarketingSoftware.com tracks the activity of a Facebook page so you can decide which Facebook site you should promote on.
Check out the product page here.
We have also released a new version of our WannaFollow.Me allowing users and followers to pin profile images creating a back link to their profile. This is a great way to market yourself through Pinterest (the fastest growing social media platform this year.)
WannaFollow.Me allows users to:
1. Create a personal profile page (think splash page) that points users to your content around the web
2. Post updates to social networking sites
3. Build a fan base of followers to increase social connectivity
4. Upload videos to truly showcase your personal profile
5. Pin images to Pinterest
Here are just a few examples of WannaFollow.Me profiles:

Over the past year, virtually everyone has learned the importance of securing their online names as services like Twitter have come from nowhere to become significant drivers of top online brands. WannaFollow.Me makes this as simple as possible, establishing it as a great service and an even better opportunity for Internet users to control their identities online.
Sign up now for free. http://www.wannafollow.me