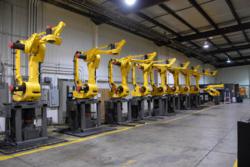 While we do notice tough times, it helps that we have a strong online presence
Marion, OH (PRWEB) October 27, 2011
A slow economy couldn't inhibit industrial robot sales at RobotWorx, a robot integrator located in Marion, Ohio. Third quarter sales were the second best that the company has seen since their beginning in 1992.
With the vacation season and fiscal year coming to an end, industrial equipment sales typically dip in the third quarter. Industrial robot arms are no exception.
However, third quarter sales at RobotWorx outperformed normal sales figures and expectations. The industrial robot integrator saw their second best third quarter in almost twenty years of existence.
Stacey McGill, head of the accounting department and web team manager, cites a strong online presence for the increase in third quarter sales. "We typically are not as affected as most companies due to our heavy reliance on web sales," states McGill.
RobotWorx strives to maintain excellent search result rankings and up to date information. Blog releases, videos, industry articles, project summaries, and other media help the company's online presence.
The customer service and willingness of RobotWorx to work with existing systems sets this integrator apart from the rest. Customers can call the RobotWorx service department with questions and problems that arise during the life of their robot.
Robotic parts also made up a significant portion of third quarter sales. Parts manager Tonya Diaz said that parts' sales "have been up quite a bit the last few quarters. Parts are really becoming an important part of our revenue structure."
The future looks bright for RobotWorx as web rankings and sales keep improving. "While we do notice tough times, it helps that we have a strong online presence. This helps us build sales from year to year," added McGill.
About RobotWorx: Located in Marion, Ohio, RobotWorx integrates industrial robot arms and robotic systems into manufacturing companies' processes. As a FANUC Authorized Integrator, a Motoman Solution Provider, and a KUKA Official Systems Partner, RobotWorx can design a robotic system to automate any industrial process. Visit the RobotWorx homepage at http://www.robots.com/ for more information.
###