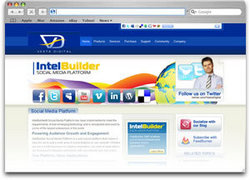 West Palm Beach, FL (PRWEB) July 9, 2009
Vesta Digital is proud to present IntelBuilder Social Media Platform, proprietary software developed to enhance advertising and marketing efforts, strengthen brand loyalty, and build better and stronger relationship with customers. The platform allows fans to post, share, vote on and aggregate content in a timely matter similar to what is done on Twitter or Facebook.
IntelBuilder Social Media Platform helps businesses power audience growth and engagement and perform more effectively. With IntelBuilder, companies are able to communicate better, faster, and address issues that matter most to their customers. Communication is the real power and has to be sincere to work.
Social media has become a fundamental part of every company's advertising and marketing strategy. It has proven to be one of the most effective ways to build deeper customer and partner relationships, engage customers and partners online and create new revenue opportunities. With IntelBuilder platform businesses are able to achieve their goals and objectives faster and cost-effectively.
Social Media Immersion
IntelBuilder Social Media Platform offers the following modules and widgets to support online marketing efforts:

Web-based platform that makes it easy to add a wide array of social features to a website
Manage social networks: content, videos, photos, blogs, and podcasts
Allows to distribute content across all major Social Media Networks
IntelBuilder results: create, distribute, communicate and interact.
IntelBuilder Social Media Solutions
Vesta Digital offers suite of applications designed to integrate seamlessly with any website and/or brand. With IntelBuilder Content Management System (CMS), Feed Manager, and Custom Modules companies are able to create engaging social media experiences for their customers. Tap into the power of IntelBuilder CMS, APIs, RSS Feeds and Widgets to improve web presence by having a dynamic, user-generated, socially interactive and data informed website.
Vesta Digital LLC
Sofia Sapojnikova
Project Management and Online Marketing
Phone: 1-866-855-0966, ext. 302
Fax: 1-866-582-8126
http://www.vestadigital.com
###