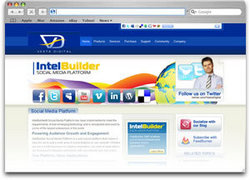 While creating and maintaining your own content is important, monitoring and responding to the conversations taking place about your brand across the web becomes critical
West Palm Beach, FL (PRWEB) August 18, 2009
Vesta Digital, LLC is proud to announce that IntelBuilder Social Media Platform is now featured on KillerStartUps.com and Zippa.com. These are user driven websites dedicated to entrepreneurs, investors, and bloggers who wish to share their opinions and stay abreast of the information on up-and-coming internet startups platforms.
World Market Media, an interactive new media consulting firm, is successfully using IntelBuilder to offer publically traded companies such as: Callon Petroleum Company (NYSE:CPE), Ruth's Hospitality Group, Inc (NASDAQ:RUTH) and Delta Apparel, Inc. (AMEX:DLA) an opportunity to leverage social media networks.
IntelBuilder Social Media Platform is proprietary software which encompasses emerging Web 2.0 technology and provides businesses with a venue to integrate company's message across multiple channels. Reconnecting with consumers via social media provides a new marketing strategy for companies wishing to get their point across quickly and efficiently to a key group of followers. Artem Gassan, CEO of Vesta Digital, refers to this strategy as follows: "While creating and maintaining your own content is important, monitoring and responding to the conversations taking place about your brand across the web becomes critical".
IntelBuilder Social Media Platform is developed to enhance online product marketing and presents a marketing strategy for professionals seeking best practices for using Web 2.0. The IntelBuilder platform provides an opportunity to publish content and updates on corporate websites and automatically submit it across all major networking sites such as Twitter and Facebook; and major bookmarking sites such as Digg and Delicious with one click. The platform also allows distributing content to Google News and other major news and media providers automatically. Additionally, IntelBuilder lets users effectively manage their readership and subscription and monitor website traffic and statistics.
About Vesta Digital:
Vesta Digital creates, develops and implements web-based software solutions that help businesses of all sizes to enhance productivity by increasing efficiency and overall profitability. Our strong standing has been generated through a combination of core competencies and skills in the areas of software architecture, database design and engineering, and web-based graphical design.
For further information please visit our website or contact:
Vesta Digital, LLC
Sofia Sapojnikova, Online Marketing
sofias (at) vestadigital.com
866-855-0966, ext. 302
###