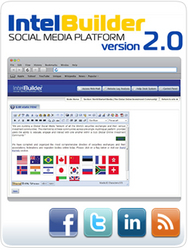 it is only a beginning of our social media strategy and integration
West Palm Beach, FL (Vocus) October 27, 2009
Vesta Digital is proud to announce new release of IntelBuilder Social Media Platform 2.0, a viable web application framework offering both Content Management System and Social Media Marketing. IntelBuilder is proprietary Web 2.0 software application, W3C compliant and globally recognized and used by publicly traded companies such as Ruth Ruth's Hospitality Group, Inc (NASDAQ: RUTH), MagneGas Corporation (OTCBB:MNGA) and Bio-Clean International (PINKSHEETS:BCLE). IntelBuilder software is continuously upgraded to offer the most advanced technology tools being available on the web today.
Platform Publishing and Website Builder Tools
When it comes to Content Management Systems (CMS), being competitive is the key. IntelBuilder offers a variety of standard and feature rich tools such as Text Editor, Contact Us form, Photo Gallery, Download Manager, RSS News and Google Maps. Web text, images and even flash elements can be easily edited and maintained. CMS also comes with ability to create unlimited pages and multiple sites in many foreign languages.
Blog software is part of the platform and is completely branded for each site created. Unlike WordPress, IntelBuilder users have ability to create posts without leaving their site and also automatically submit them to all registered social networking and bookmarking websites. Furthermore, it supports unique features such as social bookmarks, comments, tiny URLs, PDF generation and syndication feeds. Full Twitter conversation generator in to the back end of Blog module is the latest deployment with IntelBuilder 2.0. According to Artem Gassan, founder and CEO of Vesta Digital, "it is only a beginning of our social media strategy and integration".
Social Media Marketing
Social media and social networking are seen as ways to build meaningful user-generated content, interaction and to help businesses better communicate with their customers. Social networks such as Twitter, Facebook and Linked In are all proving to be an inexpensive yet profitable way to reach new audience, promote and strengthen brands and improve customer relationships. IntelBuilder is developed for marketers looking to effectively leverage the power of social media to achieve online marketing success.
Social Media Platform Benefits
IntelBuilder solutions are both easy to use and robust to meet the needs of any business. The platform is offered at a very competitive price, flexible and scalable to offer additional functionality. Other benefits include automatic SEO optimization based on the content of the website and blog posts, extensive website reporting of web traffic and subscriber statistics, and automatic RSS distribution to Google, Yahoo, Bing and other major providers such as Ping-O-Matic dissemination and Technorati.
About Vesta Digital
Vesta Digital is a South Florida software and web development company, creating, developing and implementing web-based software solutions to help businesses of all sizes to enhance productivity by increasing efficiency and overall profitability.
Sofia Sapojnikova, Online Marketing
1-866-855-0966, ext. 302
http://www.vestadigital.com
###