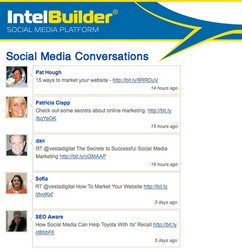 The most important new benefit of IntelBuider 2.1 is that you can now create and measure conversations on all social media networks. This is cutting–edge technology
West Palm Beach, FL (Vocus) February 10, 2010
Vesta Digital announces the release of the IntelBuilder 2.1, a new upgrade to one of the most effective social media platforms on the market today. The new IntelBuilder 2.1 platform helps you create conversations, target your audience and measure social media results automatically.
"The most important new benefit of IntelBuider 2.1 is that you can now create and measure conversations on all social media networks. This is cutting–edge technology," says Artem Gassan, CEO of Vesta Digital.
Here is how IntelBuilder 2.1 works – after publishing an article like a blog post or press release, the user can automatically measure the conversations that are engaged by that article. The user can see the number of people who have responded, learn their names and profiles and track conversations that followed the post. The results are then displayed on the user's website.
Previously, a user had to manually submit articles and measure results by counting comments and responses, or by hiring a third party service or outside source to monitor this. Now – the user can do this automatically – with the touch of a button. This saves time and money – and generates additional leads that can be very valuable. And it gives an incentive for other people to participate, leave comments, tweets, or share with Facebook friends.
IntelBuilder 2.1 Social Media Platform gives you capabilities that no other social media platform has. These enhancements further enrich a very extensive software program and create a more engaging social media experience for their customers.
About Vesta Digital
Vesta Digital provides dynamic communication tools and services for public relations firms, advertising agencies and small to large companies alike. Vesta Digital has delivered millions of pages of social media conversations and digital media content for many corporations throughout the world including Colorado Goldfields, Inc., MagneGas Corporation, Bio–Clean International and Omni Advertising in Florida. Vesta Digital was founded in 2004 and is located in West Palm Beach, Florida.
###