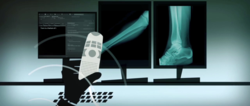 Our initial experience with Intelerad's Multi-Method Reporting has exceeded our expectations: The speech recognition engine has proven adept, and our workflow more efficient and faster, said Dr. Mark Awh, President of Radsource
Washington, DC (PRWEB) June 03, 2011
Intelerad® Medical Systems today announced the availability of its Multi-Method Reporting™ module along with the new IntelePACS® 4.3 release, which provides radiologists seamless access to voice recognition in their reporting workflow. Designed to accommodate the way radiologists naturally read and report studies, Intelerad's Multi-Method Reporting blends dictation, voice recognition and structured report templates together in a single, streamlined interface and workflow.
"We have deployed a limited trial release of the new Multi-method Reporting module to a few customers and the feedback has been very positive," said Rick Rubin, Founder and Chief Engineering Officer of Intelerad. "Radiologists are now free to choose how they report each study, depending on the case and personal preference. The result is faster than ever report turnaround times, as well as improved consistency and quality of the report."
M*Modal's Speech Understanding technology adapts to the physician's workflow and speech patterns, rather than the other way around. Combining advanced speech and natural language understanding technologies, M*Modal's platform goes beyond mainstream speech recognition capabilities because the semantic and syntactic meaning of the dictation is recognized, not just the individual words. Physician intent is recognized and the system adapts to virtually all dialects, accents, speaking styles and dictation habits.
"Our initial experience with Intelerad's Multi-Method Reporting has exceeded our expectations: The speech recognition engine has proven adept, and our workflow more efficient and faster," said Dr. Mark Awh, President of Radsource, a longtime IntelePACS customer specializing in musculoskeletal and neurological MRI.
"Intelerad's Multi-Method Reporting technology employs impressively accurate voice recognition and its embedded report structuring module will allow our practice to offer a standardized report to our referring clinicians while dramatically improving our turnaround times," said Dr. Harry Ameredes, President of Carolina Regional Radiology, an InteleOne® customer and full-service radiology practice serving two imaging centers, four hospitals, and over a dozen clinics.
About Intelerad
Intelerad Medical Systems is a recognized leader in medical imaging PACS and workflow solutions. IntelePACS relies on a scalable, flexible, and fault-tolerant architecture. Intelerad solutions, like InteleOne, have a strong reputation for reliability, flexibility, and performance in complex, multi-site environments with challenging workflows.
http://www.intelerad.com
About M*Modal
M*Modal, the market leader in advanced Speech Understanding technology, combines industry leading technology and clinical documentation services to produce highly accurate, structured, encoded and shareable medical documents to facilitate the use and adoptability of electronic health records. More than 800 healthcare organizations nationwide utilize M*Modal's solutions to increase patient safety and promote continuity of patient care.
http://www.mmodal.com
Intelerad Contact:
Helene Gey
Intelerad Medical Systems Incorporated
514.931.6222 ext. 7424
helene(dot)gey(at)intelerad(dot)com
M*Modal Contact:
Emma Douglas
KNB Communications
203.504.8230 ext. 107
edouglas(at)knbpr(dot)com
# # #