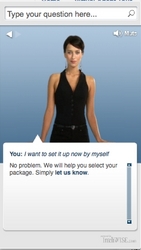 a group buying portal achieved a Click – Through – Rate (CTR) exceeding 16 % of shoppers that accepted the special offering presented by the Sales Agent
Sunnyvale, CA (PRWEB) April 5, 2011
Group buying is hot these days, with shoppers benefiting from significant discounts across a wide range of attractive services and products. InteliWISE, a leading provider of Virtual Agent software, is helping an operator of a group buying portal to increase 'Buy Now' click- through ratios, by providing their customers with instant support and 'deals of the day' offerings.
The group buying company's goal has been to provide instant support for shoppers who hesitate to push the 'Buy Now' button. Since the profitability per transaction is low, the cost per contact needed to be significantly lower than the cost of traditional live chat, or call center support (typically $5 US per customer contact), while still increasing the conversion rate.
The group buying portal teamed up with InteliWISE to deploy the sales Virtual Agent, web – based software that combines Natural Language Search, sales scripts and an enterprise avatar character. The idea is to have the virtual assistant resolve any doubts they have and give shoppers all the information they need to feel comfortable and to make the buying decision. All these functionalities are available to users all around the clock, without a live agent's intervention.
The agent assumes 3 roles: (1) Reporting instant Feedback (2) Providing online sales support (3) Providing FAQ answers to web visitors immediately.
Results of the proof – of – concept stage encouraged the group buying portal to enhance the initial scope of deployment. In the first month, a group buying portal achieved a Click – Through – Rate (CTR) exceeding 16 % of shoppers that accepted the special offering presented by the Sales Agent. These sales were added on top of standard sales and were generated purely by having added the InteliWISE Virtual Agent to the shopping cart. The Sales Virtual Agent proved to be able to successfully close almost 450 additional deals per month, more than 10 % of all previous monthly deals. Moreover, it runs at a stunningly low cost - as little as $.10 per a single chat conversation, compared to the usual $3 -$5 per live operator chat.
Please read details on http://www.inteliwise.com/en/company/news/158-increasing-buy-now-clicks-with-inteliwise-virtual-agent-an-interactive-chat-application.html
Want to learn more about InteliWISE?
InteliWISE is a leader in delivering cloud-based, intelligent chat, Virtual Agents, enhancing customer experience and boosting online sales.
Our team is passionate about meshing natural language processing (NLP), virtual expert technologies and interactive video, to heighten the effectiveness of e-commerce and customer service.
Some of the leading Fortune500 enterprises and outstanding medium sized companies have used InteliWISE solutions, across a wide range of industries, such as transportation, insurance, retail, packaged food, telecommunications and others.
We are proud to have strategic support from Intel Capital, the leading global VC, and Asseco Group, a Top5 European IT integrator. InteliWISE's headquarters are in Sunnyvale, California and its research and development is based in Europe.
###