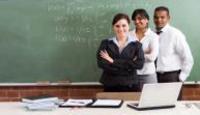 Manassas, VA (PRWEB) September 23, 2009
Insystech launches IntelleClass™ Virtual Teaching Solution to address the H1N1 Pandemic and other emergencies faced by educational institutions. IntelleClass enables schools and colleges to provide continuity of real time, interactive instruction to students via virtual classrooms. Visit http://www.intelleclass.com for more information.
The CDC has recommended that every school create a contingency plan to address the H1N1 threat and in, extreme cases, be prepared to close the institution for two or more weeks. In addition to the flu and other illnesses, some students may be home bound, quarantined or in long-term suspension. Such situations not only create inconveniences to students and their parents, but significantly increase the cost of operating and delivering the additional services required. IntelleClass™ can prevent lost instructional time, helping students continue on the path to graduation.
Through IntelleClass™ technology, teachers and students will not miss a beat, as the system brings the instructor "virtually" into the students' home computer via the Internet. Classes are conducted in real-time, virtual classrooms. The students can see and hear the teacher, and collaborate with the class through virtual whiteboards. The teachers use their own content combined with Web 2.0 tools and learning content available on the Internet to conduct classes. The system facilitates storage and distribution of homework assignments to students and submission of assignments by students. Students can collaborate with their peers in virtual chat rooms and participate in virtual discussion groups.
IntelleClass™ is a cost effective, complete turn-key solution hosted and managed by Insystech, Inc. Insystech will provide full support, including teacher training, technical support, creating contingency plans, communication plans, as well as, setup and management of virtual classrooms. The Advisory Board of the IntelleClass™ Virtual Teaching Solution consists of expert educators with a combined total of more than 100 years of experience.
Insystech is an IT Solutions Provider with more than 12 years of experience providing solutions to K-12 public schools in the US. Insystech has participated in the design, development and management of several leading edge, high quality solutions for K-12 schools.
###