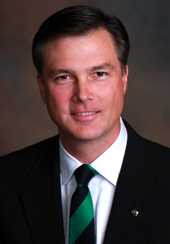 Augusta, GA (PRWEB) May 09, 2011
Hull Barrett is pleased to announce it has secured a major victory for one of our clients, an automobile dealership, against a cybersquatter who registered two domain names with bad faith and intent to profit from them. Timothy E. Moses, head of Hull Barrett's Intellectual Property practice group, represented the automobile dealership and was able to provide evidence that an individual had registered two domain names that were related to the client's personal name and business. Mr. Moses further alleged that the individual had actual knowledge of our client's mark and registered the disputed domain names in bad faith for personal profit and created a parked website with links to third-party websites who were in direct competition with our client. On behalf of Hull Barrett's client, Mr. Moses requested that the domain names be transferred. The National Arbitration Forum agreed and found the individual had no right to or legitimate interest in the two domain names and that our client had successfully satisfied the elements of the internet corporation for assigned names and numbers policy.
Timothy E. Moses has a multi-faceted practice centered primarily on Intellectual Property Law. He assists clients in creating, commercializing and enforcing intellectual property rights, and counseling in trademark, copyright, technology and internet law matters. Mr. Moses also handles general corporate matters including employment matters and startups and has prosecuted and defended complex intellectual property and commercial litigation matters including trademark, trade dress and copyright infringement matters, as well as trade secret matters. He also routinely handles software licensing matters world-wide, internet business ventures and has repeatedly and successfully prosecuted and defended Domain Name disputes nationally and internationally, before the World Intellectual Property Organization in Geneva, Switzerland and the National Arbitration Forum. Mr. Moses earned his degree from the United States Naval Academy in 1986 and graduated with his J.D. from the University of South Carolina School of Law in 1994. He is an at large member for the International Committee for Assigned Names and Numbers and is licensed to practice in Georgia and South Carolina.
About Hull Barrett, PC:
Hull Barrett, PC is a full service law firm with 29 attorneys firm wide. The firm is engaged in a general civil practice providing a broad range of legal services with an emphasis on general litigation, trials and appeals; securities and corporate law; mergers, acquisitions and public offerings; local government law and eminent domain actions; health care; computer and technology law; internet ventures; trademark and copyright law; taxation; public finance; commercial real estate; construction law and disputes; employment law; banking law; insurance law; trusts, estate planning and probate; First Amendment and media law and environmental matters. Hull Barrett represents a broad client base of major corporations, small businesses, professional entities, financial and lending institutions, local governments, public authorities, public utilities, railroad companies, insurance companies, health care institutions and individuals.
Hull Barrett is also a member of the International Society of Primerus Law Firms (Primerus.) Primerus is an international society of top-rated, independent, boutique law firms that have earned the right to display the Primerus seal of quality. As one of the most respected law firm societies, Primerus has over 170 member firms in 125 cities located in over 25 countries throughout the world. Primerus has become the size of some of the world's largest law firms. However, unlike most large firms, Primerus is growing at an unprecedented pace, and is expanding throughout Europe, Asia, and elsewhere around the globe. In every country, Primerus lawyers have the skill and experience to advise clients on the international aspects of their transactions. High quality legal services at reasonable fees – that's how Primerus can work for you. To learn more about how Primerus can provide the trusted legal advisors you need, visit http://www.primerus.com or call 800-968-1122.
###