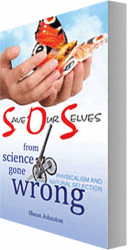 If Darwinism is unpopular don't blame creationism. Look at what it says about people and wonder if that's what's putting them off.
Rosendale, NY (PRWEB) April 12, 2012
As long as people value the experience of consciousness and free will Darwinism will continue to meet resistance, according to "Save Our Selves from Science Gone Wrong: Physicalism and Natural Selection". Because Darwinism accounts for evolution through purely physical processes it can't account for conscious experience.
"This is a problem not just for Darwinism," author Shaun Johnston says, "it's a problem for science itself. The methods of science apply only to matter. When science tries to account for something like evolution that involves conscious experience it's bound to sell that experience short. A scientific explanation for evolution is bound to imply that we're physically determined, exposing us to the risk of fatalism. More needs to be said about evolution than can be taught in a science classroom."
Even if there could be a scientific theory of evolution, Johnston writes, it wouldn't be Darwinism, or "The Modern Synthesis" as it's called today. Among other criticisms he points out that as creatures got larger and lived in smaller interbreeding populations, having fewer progeny at greater intervals, a mechanism that acted once per generation would progressively slow down. Yet evolution has, if anything, sped up over time.
Originally trained in science and no creationist Johnston has migrated over to the humanities, becoming first a medical and science writer, then a novelist and graphic designer. He maintains a site on evolution for the humanities at http://www.takeondarwin.com.
For more information on books published by Evolved Self Publishing see http://www.evolvedself.com.