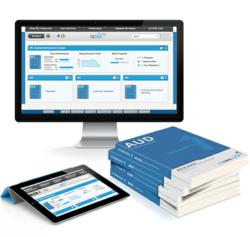 FastBook is a first in its field—the first intelligent CPA/EA textbook—and we're excited to offer this tool to our students, drastically increasing the chance of passing the exam on the first try
Orlando, FL (PRWEB) June 07, 2013
Fast Forward Academy is recognized worldwide for its innovative CPA and EA exam offerings, and with the release of its intelligent EA and CPA textbook, the company is maintaining its reputation. This month, Fast Forward Academy is hosting a webinar to explore the features of the first and only intelligent textbook in the field.
The one-hour webinar, FastBook: The First and Only EA and CPA Intelligent Online Textbook, will guide participants through the features of this interactive study tool. Designed to assist students preparing for the often challenging EA and CPA exam, FastBook has the ability to customize and adapt each student's learning process. For example, FastBook can look at students' CPA/EA exam prep performance and show them specific pages in the online book that have the highest probability of increasing their CPA/EA exam score.
Matt McBride, President of Fast Forward Academy, is excited to host the webinar on this engaging and interactive study tool. "Here at Fast Forward Academy, we are constantly trying to create and present innovative, time-maximizing and effective EA and CPA study tools. FastBook is a first in its field—the first intelligent CPA/EA textbook—and we're excited to offer this tool to our students, drastically increasing the chance of passing the exam on the first try."
The smart online book, which can work on any computer or mobile device, can track students' progress and includes community statistics. The webinar will review all the advantageous opportunities FastBook creates.
The webinar will take place Tuesday, June 18, 2013, at 2:00PM Eastern Standard Time. Interested participants are encouraged to pre-register early to ensure a spot.
Click here to register for the webinar and increase your chances of passing the CPA/EA exam on the first try.
About Fast Forward Academy
Fast Forward Academy, LLC provides companies and individuals around the world with the tools to help them efficiently manage their professional education needs. The name Fast Forward Academy reflects the scope of our mission—helping students and professionals accomplish more in less time. To realize this goal, we make every effort to provide the most useful and efficient exam prep material in the market place, all designed to help our students Learn Fast and Pass. Our principal focus is to supply rapid training and streamlined continuing education to professionals in the fields of taxation, securities and insurance.
###