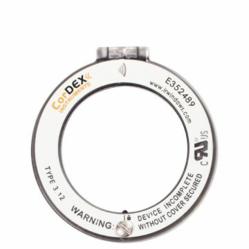 CorDEX IW Series IR windows enable compliance with these and other global safety regulatory organizations like CSA, to enable the safest, most efficient and most effective performance work practices within hazardous environments
Houston, TX (PRWEB) October 24, 2012
CorDEX Instruments, the Global Leader in the Design, Manufacture and Marketing of Intrinsically Safe and Explosion-proof Cameras and Inspection Equipment, announces their approval and certification by the Canadian Standards Association (CSA) of Intelligent Infrared (IR) Windows. This CSA certification, means the IW Series of IR windows developed by CorDEX can now be installed in Canada with confidence that a local standards approvals body has certified the design. For Canadian customers concerned about the local equivalent of NFPA70E, namely CSA Z462, the IW Series IR Windows is the intelligent choice.
CSA Group is a not-for-profit membership-based association serving business, industry, government and consumers in Canada and the global marketplace. As a solutions-oriented organization, they work in Canada and around the world to develop standards that address real needs, such as enhancing public safety and health.
"The CSA is another Nationally Recognized Testing Laboratory (NRTL) which has approved the CorDEX IW Series Intelligent IR Windows. The approval of the IW Series Intelligent infrared windows compliments our extensive, UL Certification for Type 3/12 installations and cUL recognition. The additon of CSA certification gives confidence to our US and Canadian customers alike who are concerned about NFPA70E and also CSA Z462 safety compliance," states Tony Holliday, Managing Director of CorDEX Instruments.
Holliday continues, "IW Series Intelligent IR Windows enable accurate measurement of internal electrical equipment using unique calibration maps created for each individual IR Window. Accurate measurement means no false alarms and close door inspections mean reduced cost and increased safety."
CorDEX Instruments is focusing on IR Window research and developing cutting-edge technology to enhance electrical equipment inspection safety practices globally. The company is a leading UK manufacturer of hand-held intrinsically safe and non-destructive testing (NDT) devices which are used by industry around the world. CorDEX's IR Windows take inspection and predictive maintenance to a new level of safety, efficiency and accuracy making it safer and faster to work in hazardous environments than ever before.
Gregg Purple, CorDEX Director of Sales North America continues, "NFPA 70E is a set of regulations relating to electrical safety in the workplace. NFPA 70E is referred by OSHA as a Recognized Industry Practice, which if followed helps prevent injury to personnel when working on or near electrical equipment. Specifically, NFPA 70E has brought to light the dangers of electrical arc flash and puts into place procedures to help workers work safely in potentially dangerous areas. CorDEX IW Series IR windows enable compliance with these and other global safety regulatory organizations like CSA, to enable the safest, most efficient and most effective performance work practices within hazardous environments."
IR Windows reduce the risk of arc flash by eliminating the need to remove covers and panels from live/energized equipment. With IR Windows it is possible to inspect live electrical equipment quickly and safely with minimal exposure.
About CorDEX
CorDEX Instruments is the Global Leader in the Design, Manufacture and Marketing of Intrinsically Safe and Explosionproof Cameras and Inspection Equipment. CorDEX Instruments Inc, is a leading manufacturer of intrinsically safe and explosion-proof inspection and imaging devices that include digital cameras, ultrasonic testers, laser distance meters and infrared (IR) windows. Our products play pivotal roles in a wide range of industrial, commercial and government activities across the globe.
Pioneers in the intrinsically safe camera industry, the company has been at the forefront of design innovation since its founding in 2009. From predictive maintenance, condition monitoring, non-destructive testing to government standards enforcement, CorDEX offers the widest selection of intrinsically safe cameras and inspection devices for beginners to pros.
With offices in the US and UK and the largest installed intrinsically safe camera base in the world, CorDEX offers its customers unparalleled service and the best post-sale technical applications support available. To learn more about IR Windows, Installations and Applications, visit our website or contact us directly.