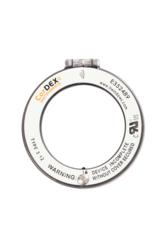 the additon of ABS Design Assessment to our existing and new marine customers that CorDEX Instruments are at the forefront of product development and certification
Houston, TX (PRWEB) November 17, 2012
CorDEX Instruments is excited to announce the certification of design assessment of the IW Series IR Windows by American Bureau of Shipping (ABS).
Founded in 1862, the core commitment of the American Bureau of Shipping (ABS) has been promoting maritime safety. Setting standards of excellence, the responsibility of the ABS classification society is to verify that marine vessels and offshore structures comply with rules that the society has established for design, construction and periodic survey.
The certification of the CorDEX IW Series Intelligent IR Windows by ABS means offshore and marine end users installing these series of Intelligent IR Windows into the electrical switchgear, will do so with the confidence that one of the worlds largest marine classification companies has vetted the approvals held by CorDEX IW Series IR Windows and confirmed compliance with the design exhibits with application sections of ABS rules for Building and Classing Steel Vessels.
"CorDEX Instruments has traditionally sold its explosion-proof and intrinsically safe cameras and equipment to the marine market. To expand its IR Window sales into the existing base, we asked our customer what they needed and an ABS Design Assessment was the resounding response," states Tony Holliday, Managing Director of CorDEX Instruments.
CorDEX Instruments is the Global Leader in the Design, Manufacture and Marketing of Intrinsically Safe and Explosion-proof Cameras and Inspection Equipment, announces their approval and certification by the Canadian Standards Association (CSA) of Intelligent Infrared (IR) Windows. This latest certification addition by ABS further supports the existing certifications by other certifying organizations such as the Underwriters Laboratories (UL) and the Canadian Standards Association (CSA) to name a few. Gregg Purple, CorDEX Director of Sales North America continues, "The IW Series already hold UL and CSA Certification for Type 3/12 installations, the additon of ABS Design Assessment to our existing and new marine customers that CorDEX Instruments are at the forefront of product development and certification, making sure they get the right equipment to perform their tasks safely and efficiently and that the product complies with the stated standards for the intended installation aboard marine vessels."
IR Windows reduce the risk of arc flash by eliminating the need to remove covers and panels from live/energized equipment. With IR Windows it is possible to inspect live electrical equipment quickly and safely with minimal exposure.
About CorDEX
CorDEX Instruments is the Global Leader in the Design, Manufacture and Marketing of Intrinsically Safe and Explosionproof Cameras and Inspection Equipment. CorDEX Instruments Inc, is a leading manufacturer of intrinsically safe and explosion-proof inspection and imaging devices that include digital cameras, ultrasonic testers, laser distance meters and infrared (IR) windows. Our products play pivotal roles in a wide range of industrial, commercial and government activities across the globe.
Pioneers in the intrinsically safe camera industry, the company has been at the forefront of design innovation since its founding in 2009. From predictive maintenance, condition monitoring, non-destructive testing to government standards enforcement, CorDEX offers the widest selection of intrinsically safe cameras and inspection devices for beginners to pros. To learn more about IR Windows, Installations and Applications, visit our website or contact us directly.