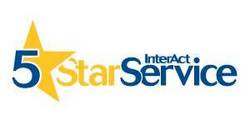 Every conversation we have with one of our clients is an opportunity to help them fulfill their mission to improve public safety
Winston Salem, NC (PRWEB) May 29, 2009
InterAct Public Safety announces that it is reinforcing its longstanding commitment to exemplary service with its 5 Star Service™ program. The company has outlined a set of five key principles that guide each of its interactions with customers to help keep communities safe. Under the principals of 5 Star Service, each InterAct employee is committed to:
Excellence: Providing the best product and support to the public safety community
Innovation: Seeking creative approaches that best serve the public safety community
Integrity: Providing a genuine and consistent contribution each day to each customer's needs
Communication: Responding to each customer's questions efficiently and within an appropriate time frame
Leadership: Setting the example and taking the initiative to provide leading edge solutions
"Every conversation we have with one of our clients is an opportunity to help them fulfill their mission to improve public safety," said InterAct Public Safety Executive Chairman and CEO Andrew J. "Flip" Filipowski. "As former 9-1-1 directors, dispatchers, and emergency responders themselves, our staff understands the challenges and pressure that our customers face everyday. They know that every moment is crucial and every process that can be improved will helps save lives. Our 5 Star Service program is another example of how we continually seek to make a positive difference for our clients and the communities they serve."
InterAct Public Safety has long been committed to improving customer service. Its friendly, professional live agents are available by phone 24x7x365. InterAct also makes it easy to obtain assistance via email, an interactive customer portal offering online ticket tracking, downloadable training and user guides, and an online knowledge base.
"I am continually impressed with the level of service from all of the InterAct employees," said Clark Harrell, director of Mitchell County, Georgia E-911. "Mitchell County would not be able to provide the level of service and responsiveness that we do to our community without InterAct Public Safety, its software, and its people."
To recognize employees that deliver positive service experiences to their customers, InterAct Public Safety is inviting its clients to nominate InterAct employees that have provided and exemplified the tenets of its 5 Star Service Program. Employees will be awarded with special recognition, including designation as a 5 Star Service Marshall, a special lapel pin, notice in the monthly newsletter, and a plaque in the company's headquarters.
To nominate an InterAct Public Safety employee who has demonstrated 5 Star Service, and to learn more about the program please visit http://www.interact911.com/5starservice.htm.
About InterAct Public Safety
InterAct Public Safety makes Connections for Life™ providing both stand-alone and fully integrated mission-critical public safety and homeland security systems and products. As the pioneers of the first three-screen E911 system 20 years ago, InterAct's passion for innovation is leading the way to Next Generation telephony, dispatch, records management, and mobile data systems. Founded in 1975, InterAct Public Safety continues to extend the definition of public safety with unique applications like intelligent digital video surveillance, alert notification and crisis management systems. InterAct makes it possible for first responders from private, state, local and national agencies to decrease response times and increase their effectiveness in the communities they serve. InterAct is an ISO 9001:2000 certified company.
For more information, please visit http://www.interact911.com.
###