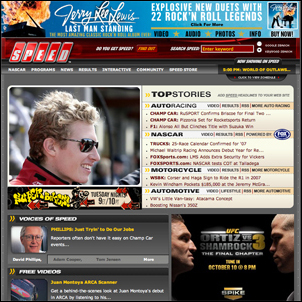 We are thrilled that SPEEDtv.com has won a WebAward as an 'Outstanding Web Site'
Orlando, FL (PRWEB) October 11, 2006 -–
SPEEDtv.com, the Web site attracting fuel-injected racing fanatics from across the world, was named "Outstanding Web Site" by the Web Marketing Association's 2006 WebAwards. Full service interactive agency MindComet developed and maintains the award-winning Web site for long-term client partner SPEED, one of the fastest growing sports cable networks in the country.
"We are thrilled that SPEEDtv.com has won a WebAward as an 'Outstanding Web Site'," said Mark Mitchell, director of SPEEDtv.com. "Together with our development partner MindComet, our goal has always been to provide the audience with a comprehensive mix of high-quality content in a package that utilizes the latest technology while remaining easy to use and pleasing to the eye. We are honored to be recognized by our peers for those efforts. We will continue to set the bar high and provide maximum value for both our visitors and the advertisers and sponsors who support our site."
In a fierce, competitive undertaking, SPEEDtv.com reigned at the top of the judges' scorecards, ranking above both category and overall entry averages for each of the seven criteria and scoring 68 of a possible 70 points. The site took perfect scores in design, innovation and content and surpassed competitors in technology, interactivity, copywriting and ease of use.
"We gave them a reason to extend their involvement online by focusing on interaction and really developed a functional, user-friendly, engaging site," said Scott Allen, vice president of experience at MindComet. "Every step in our creative process ties in preparations to integrate user generated content to build a true racing community."
SPEEDtv.com continues to be an industry trendsetter in 2006, adding or enhancing several of the site's main attractions including a free video player featuring SPEED programming highlights and news clips, interactive chats with race drivers and SPEED announcers, content partnerships with FOXSports, RACER Magazine, MXi Magazine, RaceFan.com and others, communities including SPEEDtv.com's message boards, SPEED Insider and podcasts including Wind Tunnel with Dave Despain and The SPEED Report.
"This serves as a reminder that we are on the right track…but we know we have to work hard to keep up with all of the emerging trends and technologies," said Joe Tripp, SPEEDtv.com senior editor. "As an extension of the network, SPEEDtv.com serves as the 'mother ship' for many of these platforms, particularly SPEED on-demand, SPEED on-board pass, on-demand video, podcasts and mobile. Our goal is simple -- to make SPEEDtv.com the number one motor sports and auto enthusiast destination on the Web, available WHENEVER and WHEREVER our users want it."
In addition to the enhanced features of SPEEDtv.com, MindComet furthered the network's Web presence by developing and launching over a dozen mini-sites for additional SPEED brands and programs and encouraging fan interactivity through MySpace profiles for popular programs including PINKS and Unique Whips. The widespread, significant Web presence through online channels and social networks continues to drive traffic to SPEEDtv.com and influence tune-ins for their network's hit programming.
To learn more about MindComet's Web site design services visit: http://www.mindcomet.com
To view the award-winning Web site visit: http://www.speedtv.com
About Speed
SPEED, celebrating its 10th Anniversary in 2006, is the nation's first and foremost cable network dedicated to motor sports and the passion for everything automotive. From racing to restoration, motorcycles to movies, SPEED delivers quality programming from the track to the garage. Now available in more than 73 million homes in North America, SPEED is among the fastest growing sports cable networks in the country, the home to NASCAR TV and an industry leader in interactive TV, video on-demand, mobile initiatives and broadband services. For more information, visit http://www.speedtv.com
About MindComet
MindComet is a unique hybrid of an interactive marketing consulting firm, an interactive agency and a marketing technology developer. We have implemented relationship building marketing, communications and eLearning solutions for many Fortune 500 companies including Coca-Cola, FOX, Tyco, Nextel, General Motors, Hewlett-Packard, UPS, Walt Disney and others. Our team delivers an unparalleled combination of strategy, creativity and technology to produce solutions that deliver results for our client partners. Founded in 1999 by Ted Murphy, MindComet is widely recognized as one of the premier agencies of its kind. For more information, visit http://www.mindcomet.com
About the WebAwards
Founded by the Web Marketing Association in 1997, the WebAwards is the standards-defining competition that sets industry benchmarks based on the seven criteria of a successful website. The goal of the WebAwards is to provide a forum to recognize the people and organizations responsible for developing some of the most effective websites on the Internet today. Beyond validation, entrants benefit from a website assessment by a professional judging panel, which provides specific feedback on how each site ranks against standards of excellence. For more information, visit http://www.webaward.org.
###