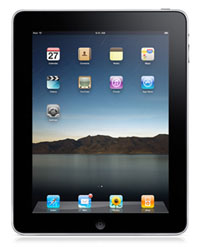 Interactive maps and floor plans created with MapsAlive now run on the iPad, iPhone and iPod Touch.
Waitsfield, VT (PRWEB) May 04, 2011
Interactive maps and floor plans created with MapsAlive now run on the iPad, iPhone and iPod Touch. Created by AvantLogic Corporation, MapsAlive is the first do-it-yourself interactive map solution that makes any image interactive and automatically displays it in HTML5 or Flash depending on what the browser supports. With MapsAlive, no extra work is required to make clickable maps mobile friendly.
"Millions of iPads and iPhones are used every day – if you want people to be able to view your interactive maps on the iPad, you need a technology that supports both Flash and HTML5, "said AvantLogic President George Soules. "Most other interactive map and floor plan solutions require Flash which means people will not be able to see the maps on the iPad. The interactive maps and floor plans you create with MapsAlive automatically work on both desktop and mobile browsers."
People take their iPads and iPhones with them everywhere they go and now they can view interactive maps and floor plans anywhere, anytime. For example, realtors can show interactive floor plans, area maps and site plans to potential buyers or renters even when they are not in the office. The maps created with MapsAlive can also be run on the iPad without a Wi-Fi or 3G connection.
Web developers can use MapsAlive to build interactive map solutions that would be too expensive to produce with custom programming, and now there is no need to create separate versions for mobile devices. No other software solution creates interactive maps and floor plans that run in both desktop browsers and on the iPad and iPhone.
MapsAlive can be used with any map or floor plan or with one of over 300 ready-to use maps included free with all plans. Choose from world maps, United States maps, regions and US state maps. MapsAlive plans start at $29/year. To learn how to create interactive maps and try MapsAlive free for 30 days, visit http://www.mapsalive.com.
About AvantLogic
AvantLogic is the creator of MapsAlive, a web application that can make any map interactive for use on web pages. A map can be any image such as a diagram, floor plan, photo, or geographic map. Interactive maps allow viewers to move their mouse over markers to quickly gather information and see images and text associated with locations on the map. MapsAlive is popular among residential and commercial real estate professionals, and is also used to create interactive location maps and web content for museums, travel and tourism, education, and law enforcement.
Based in Waitsfield, Vermont, AvantLogic was founded in 1999 as a software consulting company specializing in web applications, commercial grade software, and safety-critical computer systems. Clients include ABC Television, Bombardier, DaimlerChrysler, the New York Power Authority and the State of Vermont. AvantLogic launched MapsAlive in 2007, and is now focused on making MapsAlive the premier tool for creating online interactive map tours.
###