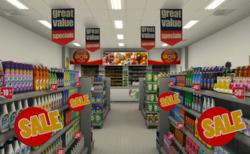 Complete assessment of POS communication power
(PRWEB) July 18, 2012
IVD, a market research technology company dedicated to creating innovative market tools based on virtual reality environments, has released their new IVD Online version 1.5, based on the acclaimed IVD Immersive 2.0. Using proprietary in-house software, the integrated system allows fast, precise, and interactive researching of shoppers based on an online solution and the recreation of a retail shopping environments.
"IVD Online comes to complete our portfolio of research solutions. After the great acceptance of IVD and seeking to offer a more accessible and fast way to deploy shopper research, we are now releasing IVD Online – our globally hosted IVD system. IVD is solid and already delivering relevant information and research insights for major consumer products companies," says Fernando Muniz-Simas, CEO of IVD.
IVD developers have delivered a unique solution to integrate the complete online research system, integrating screening, virtual experience, and a post-questionnaire. Respondents are able to do their shopping in a visually striking store which helps to produce a realistic shopping experience to better help generate real world data.
"We have several store types already predesigned for what is proving to be a major time saver for our clients," says Pepijn van der Krogt, CTO of IVD. "Our ready-made collection provides a guaranteed quick delivery of optimized environments, which will run in every platform."
Rather than questioning respondents while they shop virtually, the software measures behavior using direct choices of the respondents. IVD Online, while being a simplified version of IVD Immersive generates a fast, inexpensive way to reach broader audiences via online research panels.
"IVD Online answers our client's demand to bring IVD Immersive quality to the online platform. We could quickly bring our virtual expertise to the online platform and have received a very positive response from the market so far," states Bill Petrie, Vice President for Marketing and Sales for the United States and Canada. Like in IVD Immersive, IVD allows testing of many shopper issues like: packaging, new product launches and line extensions, pricing levels, POS effectiveness and the effect of point-of-purchase materials on sale decisions.
The value of IVD as a technological, interactive research tool resides on the registration of behavior as it is, considering that much of the way people shop today comes from their unconscious cognitive processes, or auto-pilot. IVD Online is a product derived from this platform and is ready to be deployed either for CAPI or online for a 3D marketing research tool. The software is available anywhere, guaranteeing fresh respondent samples with applicable responses. IVD can also integrate with a preferred research partner or offer market researchers a complete solution for their needs by providing novel, mind opening, analytical tools.
Companies interested in knowing more about IVD can visit http://www.ivdshopper.com
About IVD
Founded in 2010, IVD is an all-in-one solution dedicated to creating sophisticated immersive simulated environments for shopper research and training. With decades of experience in design and branding, the founders saw many good brand concepts being either rejected or modified by poorly researched methodologies, simply because their lack of objectivity and observer bias. Seeing that they could make a difference in influencing the way shopper research was being done, they combined the latest technologies such as eye and motion tracking to measure consumer and shopper behavior in virtual stores and deliver an in-depth analysis of present behavior that will guide future decisions. With offices in North and South America and representatives in Europe, IVD has been for retail, shopper, automotive and training developments all over the world. For more information visit http://www.ivdshopper.com
Contact
Bill Petrie
Bill(dot)petrie(at)ivdshopper(dot)com
Vice president Sales and Marketing
+ 1 (416) 399-7032
Fernando Muniz-Simas
fmuniz(at)ivdshopper(dot)com
President
+56 9 7775 3789
Pepijn van der Krogt
pvdkrogt(at)ivdshopper(dot)com
Chief Technologist
+56 9 87760118