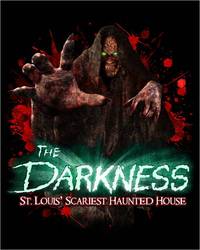 Lights Out- Full Production Tour
St Louis, MO (PRWEB) March 2, 2010 -
Halloween Productions, producers of the premier haunted attraction, The Darkness, recently opened online ticket sales to industry professionals planning to attend the 2010 Halloween & Attractions Show (HAA Show) this March. Interactive Ticketing has provided an easy online reservation system which will allow industry guests to reserve a time slot for the tour. HAA Show attendees can purchase their tickets now by going to the Darkness website at http://www.thedarkness.com.
A "Lights On- Behind the Scenes Tour" tour will be available on Thursday, March 25th. Haunt industry professionals will get an up close and personal view of the new Darkness Haunted House including: a tour of the actors' room, security systems, set pieces and animatronics. Photos and video will be allowed. A ticket to this event also includes a return visit to the "Lights Out- Full Production" tour.
A "Lights Out- Full Production Tour" will also be showing on Friday, March 26th and Saturday, March 27th in hourly intervals beginning at 7:30 PM Central Time. The Darkness Tour will feature a full cast of actors under show lighting conditions. This ticket can be purchased separately for those who can't make the "Lights On- Behind the Scenes Tour."
Haunt industry professionals are encouraged to buy tickets now at http://www.thedarkness.com/.
The DARKNESS Tour for Halloween & Attractions Show Attendees
The Darkness is the premier haunted attraction in St Louis, featuring three different attractions inside one 40,000 square foot building. Attractions include the all new Darkness Haunted House, Terror Visions 3D and their new Monster Museum. Get a behind the scenes look, experience the full production event, or do both- you won't want to miss it!
The 3 Darkness haunted attractions have been totally remodeled for the 2010 haunt season just for this tour! Be the first to see all the new sets, special effects, custom props and much more at the 2010 Haunt Show in St. Louis, Missouri.
The Darkness has been featured on the History Channel's 'Modern Marvels', Travel Channel's 'America's Scariest Attractions', America Haunts, and the National Geographic Channel.
About Interactive Ticketing
Interactive Ticketing is an industry leader in online ticketing across the country, supporting events of all types including: amusement parks, haunted attractions, fairs, expos, concerts, ski areas, consumer shows, museums and more.
Tickets are purchased online and printed from the patron's home or office; tickets are then validated at the event site using a barcode scanner. Interactive Ticketing separates themselves from the competition by providing state-of-the-art marketing tools, reporting features, and wireless scanning capabilities which allow clients to meet and exceed their ticket sales expectations each and every year.
Contact: Dan Voelker
Email: learn.more(at)interactiveticketing(dot)com
Phone: 877-253-5676
###