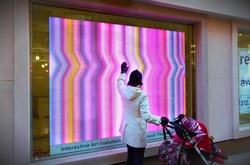 Art that begs to be touched
Brooklyn, New York (PRWEB) December 17, 2009
The artwork entitled "semiboneless" transforms the storefront window into an electronic interactive canvas that senses hand movements through the window glass, allowing the viewer to interact and influence the behavior of the piece- art that begs to be touched.
Robert Stratton's work explores algorithmically generated patterns, forms and colors influenced by the hands and gestures of passers-by. "I am fascinated by the concept of rigid, mathematically generated processes being randomly influenced by random, organic happenstance" says Stratton, "The Sensacell interactive system allows me to transcend the boundaries of the traditional art installation; this piece truly becomes part of the neighborhood"
Robert Stratton received a BA in Art and Communication form Oberlin College, and a MFA in Computer Art from School of Visual Arts. Robert was one of the founding partners of Rare Medium, a web development company started in 1995 that grew to over 1000 employees with 10 offices around the world. Robert continues to pursue ventures in art, interactive media and technology.
Materials:

192 Sensacell HSI64-36-RGB interactive sensor modules.
Embedded Computer.
Max/MSP/Jitter software.
Sensa-Node interface units.
Power Supplies.
This exhibition was made possible by chashama, an organization dedicated to bringing art to the public.
Exhibition space generously provided by Stonehenge Partners, Inc.
Interactive Technology provided by Sensacell Inc.
chashama Visual Arts Program
http://www.chashama.org
Phone: 212-391-8151
Robert Stratton, Artist
http://www.madbutter.com
Phone: 917-549-3641
Stonehenge Partners, Inc. Real Estate
http://www.stonehengeny.com
Phone: 212 750-0707
Sensacell Inc. Interactive Technology
http://www.sensacell.com
Phone: 718-782-8696
Special thanks to:
Janusz Jaworski and Michael Stern
# # #