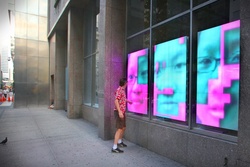 Using these systems together, the possibilities are limitless for creating truly immersive, dynamically responsive visual experiences.
Brooklyn, NY (PRWEB) July 26, 2010
The artwork, entitled "prettyugly", consists of three 6' x 4' proximity-sensitive LED video panels mounted in the windows; the panels portray close-up video of children making faces, conveying certain random moods or expressions. Layers of this video are combined on the panels via rectangular "holes" that allow faces from one layer to merge with another, creating a "hybrid portrait" of a hybrid person with a hybrid expression. Touching the windows causes the image to change and recombine.
"The work is essentially about how we as individuals are woven into the rich and diverse tapestry of people we live with and among in New York City," added Mr. Stratton, "The interactive and collaborative nature of the work is an extension of this: the composition on the display at any given moment is the cumulative state of the piece after purposeful or exploratory interaction from random people passing by. The resulting juxtapositions of faces and their expressions - whether the effect is startling, comical, bizarre, endearing, incongruous, or harmonious - are the sum consequences of this interaction."
The Donnell Library Center, which has stood empty in its vantage point across the street from MoMA for nearly two years, is being transformed into a temporary art exhibition by the nonprofit arts group Chashama. The group has been converting vacant properties across the city into exhibition spaces for the past 15 years, and said its plans for the former public library include placing easels inside the window spaces and inviting artists to illuminate them with lights and color.
"Having an empty, unused space on such a prominent block seemed inappropriate," said Wally Rubin, the district manager of Community Board 5.
Technology for the exhibition was provided by Sensacell Corporation, a Brooklyn-based manufacturer of interactive LED lighting and display technology, and by amBX, a UK based company specializing in full "sensory surround" entertainment experiences.
"Robert Stratton's artworks represent a perfect vehicle for us to showcase the unique capabilities of our technology" says Joakim Hannerz, CEO of Sensacell, "Integrated proximity sensors enable viewers to interact and control the artwork through the window glass while the super bright LED display technology provides dramatic daylight visible images"
Sensacell contributed LED modules, control hardware and technical expertise to the show and has collaborated closely with Mr. Stratton in the development of the installation. An amBIENT XC LED controller is used to light the space around and behind the panels with ambient light that dynamically responds to the interaction of participants using the Sensacell system. As Shannon Harvey of amBX explains, "Using these systems together, the possibilities are limitless for creating truly immersive, dynamically responsive visual experiences."
The installation will be on view through August 31st, 2010.
###