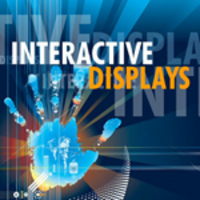 Times are tough, but this technology is still evolving
Portland, ME (PRWEB) March 4, 2009
A few years ago multi-touch interactive displays were just flashy special effects in films and works of science fiction. Since then the technology has become real, commercial, and in-demand by consumers.
To keep developers and researchers on the cutting edge, IntertechPira has created the Interactive Displays 2009 conference, taking place April 21 - 23, 2009 at the Hilton San Jose, in San Jose, California. Interactive Displays 2009 will feature keynotes by Perceptive Pixel's Jeff Han and Microsoft's Steven Bathiche, along with presentations from 3M Touch Systems, Ecast, NextWindow, N-Trig, GestureTek and others.
Acknowledging the challenging economy and tightening corporate travel budgets, IntertechPira is offering a registration price of $699 through Friday, March 9. That's 50% off the standard registration rate.
"Times are tough, but this technology is still evolving," says Derek Mitchell, producer of Interactive Displays 2009. "IntertechPira wants to foster continued development, and offers this as an economic stimulus plan for you."
To take advantage of this offer, use promotion code IDREL03 when you register online at http://www.Int-Displays.com.
To maximize exposure, exhibit spaces are also available for $299, making it possible for companies to promote their latest work even in difficult financial times.
To learn more or register, visit the event website at http://www.Int-Displays.com, or contact Derek Mitchell at IntertechPira: +1 207 781 9615 or derek.mitchell (at) pira-international (dot) com.
###