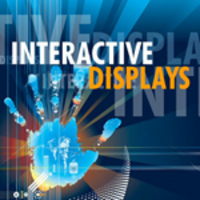 Our sponsorship offerings are exciting and cost effective
Portland, ME (PRWEB) March 26, 2009
Only three weeks before IntertechPira's Interactive Displays 2009 opens its doors in San Jose. It has become clear that April 21 - 23, IDC2009 is the place to be for anyone who's anyone in the touch panel and interactivity industry.
The show exhibit hall has sold out, with an all star roster of participating companies that include: 3M Touch Systems, 22 Miles, Artificial Muscle, ELO Touch Systems, GestureTek, Immersion, JDSU, Kyocera, Lumio, Multitouch Oy, Natural User Interface Group, NextWindow, OSRAM Opto Semiconductors, PQ Labs, RPO, Stantum, Touch International, and uWink, Inc.
Though exhibit space is sold out, companies hoping to join this incredible group still have a chance to boost their corporate profile through a branding or function sponsorship, from a 'welcome banner' placement to presenting sponsor of Jeff Han's keynote luncheon.
"Our sponsorship offerings are exciting and cost effective," says Derek Mitchell, producer of IDC2009. "They start at just $2,000 - and offer companies an opportunity to not only attend the conference, but also help maximize their exposure both during the show and long after the conference has ended."
Those interested in attending the conference may register for Interactive Displays online today for just $1399. The full conference registration gets you into technology sessions, networking socials, roundtable lunches, and as an added bonus, register before Friday, April 3 and receive a free night's stay at the Hilton San Jose the conference hotel!
Interactive Displays 2009, taking place April 21 - 23, 2009 at the Hilton San Jose in San Jose, California, will feature keynotes by Perceptive Pixel's Jeff Han and Microsoft's Steven Bathiche, along with presentations from BMW, Ecast, Synaptics, N-Trig, GestureTek and more than a dozen other leading innovators. Beyond the speakers, with more than 100 attendees, the opportunities for networking and collaborative problem solving are virtually unlimited.
Much like the technology being covered at the show, IDC2009 itself will be on the cutting edge asking attendees to rate sessions and the conference electronically, and even 'Tweet' about the event as it happens, using Twitter hashtag #IDC2009. Receive up to date information, ask questions and be part of the Interactive Displays community by following Interactive Displays at http://www.twitter.com/interactivedisp and make sure you use the hashtag #IDC2009
Check out the website, http://www.int-displays.com for a full list of speakers and exhibitors, to register to attend, or to learn more about sponsorship opportunities available. For more information, contact Derek Mitchell at IntertechPira: +1 207 781 9615.
###