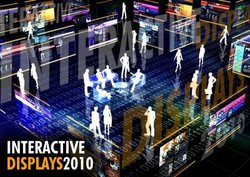 Portland, ME (PRWEB) September 9, 2009
IntertechPira is pleased to announce the Interactive Displays 2010 conference and exhibit, taking place April 20-22, 2010 at the Sainte Claire Hotel, in San Jose, California. Following the huge success of ID2009, this year's conference is projected to be even bigger and better, with a larger exhibit space and more networking events.
Interactive Displays 2010 will bring together the interactivity community to discover advances in technologies from multi-touch to holography, and haptics to gestures, offering a collaborative environment in which to tackle the challenges and hurdles of development and integration.
"I attend numerous conferences every year, and without hesitation can point to the 2009 Interactive Displays Conference as simply the best event I've attended in many years. Very knowledgeable speakers from a broad spectrum of the interactive displays market gelled together in an almost magical way to both teach and entertain." -- Mark Fihn, Publisher, Veritas et Visus. ID2009, chaired by Microsoft's Steven Bathiche, Stantum's Guillaume Largillier, and Keynoted by Jeff Han, founder of Perceptive Pixel proved to be THE displays conference to attend.
IntertechPira is now accepting submissions for presentations at the 2010 event. Of particular interest are submissions for sessions on: industry overview and market forecast, interactive technology breakthroughs, power consumption and interactivity, cost improvements, and emerging applications of interactivity.
Additional topic ideas are also welcome and will be given full consideration. Case studies are of particular interest.
Topics should focus on the business and technical information that is the subject of the conference, rather than the product line, sales interests or management structure of an individual organization. The total time allotted for each presentation is 30 minutes, with 20-25 minutes for the presentation and 5-10 minutes for questions and discussion.
Topic ideas for preconference seminars are also invited at this time. Preconference seminars are classroom style workshops intended for 20-30 participants. They are designed to provide ample time for in-depth discussion, questions and answers, and student-instructor interaction.
A completed submission should include company name, speaker name, job title and contact information, a topic summary of no more than one page and a tentative title and sub-headings for the presentation. Abstracts must be received by September 30, 2009 and may be submitted by fax: +1 207 781 2150 or email: Valerie(dot)king(at)pira-international(dot)com.
For more information about the conference program and speaking opportunities, please contact Valerie King: +1 207 781 9616.
To learn more or register for the conference, visit the event website at http://www.Int-Displays.com, or contact Brian Santos at IntertechPira: +1 207 781 9618. Exhibit and sponsorship opportunities are also available.
IntertechPira is a leading information services provider that specializes in giving industry executives strategic information and analyses pertaining to advanced materials and technologies driving the development of innovative products. We serve niche segments of the lighting and displays, high-performance pigments, fillers and fibers, energy and advanced materials, and electronic materials and devices industries by producing international conferences and publishing focused, relevant reports on which actionable business decisions can be based. IntertechPira is a subsidiary of Pira International, with offices in the United Kingdom and Portland, Maine, United States.
# # #