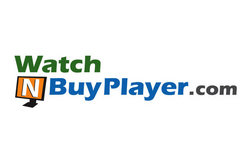 "Finally a way to make the internet click, and make converting videos to .flv's a one step easy process."
San Antonio, TX (PRWEB) March 29, 2010
San Antonio's WatchNBuyPlayer.com is bringing another innovation to the business world by introducing a new interactive video player. Viewers can click on the objects on the video and link to any destination on the web. This technology enables websites to inexpensively stand out from the competition.
In today's economy, businesses have to be careful about every single dollar spent. That's why WatchNBuyPlayer.com is so excited about their new video player. Luis Ramirez, Vice President of Operations, said, "This technology allows businesses to seamlessly incorporate interactive video as a marketing tool on any website. The cost of doing something like this on your own would be ridiculous. But to rent the player from us and have it on a monthly basis is a great thing for just about any website. No long term contract, you can cancel anytime. No questions asked."
WatchNBuyPlayer.com's Video Player will elevate web sites to the next level by employing interactive video. Business owners can now communicate better and have their products and services standout like never before.
Another big challenge facing business owners and web developers is having the time to learn how to use and manage all the tools that are out there to convert video files to the proper format and upload them to a place where they can be streamed around the world.
WatchNBuyPlayer.com is making this easy by partnering with Sorenson and utilizing their new award-winning video conversion tool. The tool converts virtually any video file to FLV format (Flash Video). With one click of a button, a video is converted, resized, and uploaded to WatchNBuyPlayers's streaming network. No learning curve, no frustrations, it's ready to go. As part of the introduction of this amazing software WatchNBuyPlayer.com is making this tool available for free to paid subscribers through the month of April. Once you sign up for the player all you need to do is enter promo code "INAFLASH."
Through the interactivity of WatchNBuyPlayer.com, web visitors can pause, rewind and click on items featured in the videos to obtain more information about the product or service. "This technique draws customers into your business and holds their attention. It gives them the information they need to make an informed decision," Ramirez said. The player can also be used for on-line teaching and training.
Business owners will know immediately why WatchNBuyPlayer.com is different. The player allows complete control over video, marketing, and branding.
"Other video players often link to a different website once they've been played," said Ramirez. "Not ours. We give business owners their own tools for marketing their own products, and viewers are not directed away from the site after viewing a video."
Nothing captures the imagination of a potential customer like video. But right now, due to the high cost of this technology, very few are employing this valuable tool for marketing. "WatchNBuyPlayer.com is easy to use, and it can be hosted on any website very quickly and inexpensively," said Ramirez. "The player also works great if you have installed Wordpress or are using Blogger. Nothing to download or install on your computer. Our online application provides you with the tools you need to make your videos interactive. We've included a Step-by-Step Wizard that guides you through a few simple steps, and in minutes your video can be published on any website, taking viewers where you want them to go."
Not in vain WatchNBuyPlayer.com is proud to say there is "Finally a way to make the internet click."
###